Washington — President Bush invoked the service of U.S. troops in dangerous lands Thursday as he heralded the "season of hope" with the lighting of the national Christmas tree.
Before thousands on the Ellipse, Bush and his wife, Laura, joined in turning on some 15,000 colored lights on the 42-foot Colorado blue spruce that has served as the national Christmas tree for more than two decades.
"This Christmas, as loved ones come together, some in our military are separated from family by the call of duty, a long way from home," the president said. "American servicemen and women are bringing freedom to many and peace to future generations. Their sacrifices defend us all, and all Americans are grateful to them and to our military families."
Two girls from Brownie troop 5179 from Chantilly, Va., joined the Bushes in lighting the lights. The troop sent more than 200 pounds of candy, sunscreen, bug spray and other items for soldiers overseas.
"Across our country, citizens are supporting our people in uniform with their prayers and many acts of kindness," Bush said. "Often the effort is led by children."
Carols rang out on the mild evening, with songs from the West Tennessee Youth Chorus, country star Marty Stuart, tenor Carl Tanner and others.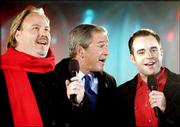 Music also is the theme of the Christmas decorations as well.
"It's all those American Christmas songs that we grew up on and that our children are singing now," a red-suited Laura Bush said as she took reporters past vignettes of songs perched on mantels and tables throughout the State Floor.
Each year, the public areas of the White House are decorated for the holidays around a theme chosen by the first lady. This year's theme of "merriment and melody" features 13 holiday tunes.
Copyright 2018 The Associated Press. All rights reserved. This material may not be published, broadcast, rewritten or redistributed. We strive to uphold our values for every story published.