A series of storms that spawned at least one tornado just southwest of Lawrence rumbled and flashed this evening through Douglas County, sending many people to their basements, knocking out power and causing widespread flash flooding on city streets.
We don't encourage anyone to put themselves in danger during severe weather. But if you have an interesting photo of the storm (film, digital or mobile phone camera), we'd like to see it to post it online.We would also like to see any interesting video you might have of tonight's storm.You can contact us with your storm photos at editor@ljworld.com and at 785-423-0685.
Douglas County Emergency Management weather spotters reported a tornado touched down briefly in the Clinton Lake area about 8:39 p.m. Sirens were activated in southern Lawrence and Douglas County was put under a tornado warning until 9:45 p.m. A severe thunderstorm warning remained in effect for central and eastern Douglas County through 10:30 p.m.
At 9:50 p.m., the storm was moving east and southeast at about 15 mph south of Eudora. There were reports of winds gusting up to 70 mph about 9:30 p.m. just east of the East Hills Business Park.
The tornado touchdown was seen two miles south of the Bloomington Beach area at Clinton Lake by the Douglas County Emergency Managment spotters. One spotter saw a funnel dip down from the clouds while another spotter reported that the funnel touched down briefly before going back into the cloud, according to Bob Newton, a spokesman for the county's emergency management office.
At 8:52 p.m., the the National Weather Service's Doppler radar indicated that a severe thunderstorm capable of producing a tornado was over central Douglas County, about six miles south of Lawrence in mostly rural areas.
Power was knocked out about 9:10 p.m. in the 1700 block of Kentucky Street in central Lawrence. Westar Energy, Lawrence's electric utility, reported that 3,200 customers lost power in northern area of Lawrence. Westar hoped to have power restored within in an hour. Power line transformers were also out on Clinton Parkway west of Lawrence.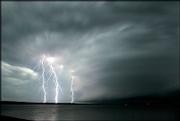 There are also as many as three structure fires thought to be related to tonight's storm in Lawrence.
Widespread flash flooding was reported throughout Lawrence's city streets, especially in low-lying areas. As of 10:12 p.m, the rain was still pouring and there was 1.91 inches recorded at Lawrence Municipal Airport and 2.76 inches at the 6News studio at Seventh and New Hampshire streets in Lawrence's downtown.
Pea- to dime-size hail was reported about 8:30 p.m. in southwestern Lawrence and near the Lied Center on Kansas University's west campus, according to Matt Sayers, 6News meteorologist.

At 8:12 p.m, a severe thunderstorm capable of producing a tornado was traveling east about 25 miles per hour. The thunderstorm was six miles west of the city of Clinton, Clinton Lake and Baldwin City.
Earlier, at 7:46 p.m., law enforcement reported a funnel cloud two miles west of Big Springs and a warning was issued that lasted about 30 minutes for northern Douglas County, which included Lawrence.
The weather service also issued a tornado warning for southeastern Shawnee County, which expired at 8:30 p.m. At 7:56 p.m, the weather service reported that radar showed that a storm capable of producing a tornado was nine miles southeast of Topeka, moving to the east at 20 mph.
Tornadoes, hail and high winds are all possibilities tonight in the Lawrence area as a severe storm system moves through, according to Sayers said.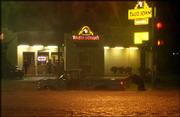 About 7:20 p.m., a tornado was reported on the ground in Shawnee County, four miles east of Silver Lake, which is about nine miles northeast of Topeka. The tornado was moving east about 15 mph, Sayers said.
The Douglas County area was under a tornado watch until 1 a.m.
Sayers intends to provide live storm updates throughout the evening on Sunflower Broadband's Channel 6.
--- Those contributing to this story included Matt Sayers, Holly Naylor and Brooke Wehner, 6News; Levi Chronister, Becky Wilson and Simon Willison, World Online; and Ric Brack and Richard Gwin, Journal-World.
Copyright 2018 The Lawrence Journal-World. All rights reserved. This material may not be published, broadcast, rewritten or redistributed. We strive to uphold our values for every story published.