Ottsville, Pa. — Teresa Heinz Kerry once hinted at tensions with her first-born son, a 37-year-old blacksmith who seeks an anonymous life with his wife and child in rural Pennsylvania.
But if H. John Heinz IV is noticeably absent from stepfather John Kerry's presidential campaign and in news photos of the high-wattage Heinz-Kerry clan, his activist interests -- the environment, youth, local programs -- mirror much of the focus of his family's $1.5 billion Heinz Endowment charities.
Heinz Kerry's eldest son lives with his physician wife, Kristann, on a wooded 163-acre farm near Philadelphia, refusing all inquiries about Kerry's campaign, the Heinz foundation or his own work and ambitions.
He operates a small Buddhist high school for troubled teens nearby, and makes reproduction ironwork in a studio on his secluded property, land he has conserved so it can never be developed.
On a much larger scale, Teresa Heinz Kerry has steered money to the environment, education and local art and cultural groups as chairwoman of the Pittsburgh-based Heinz Endowments.
Heinz Kerry told The Washington Post in a 2002 profile that John started "hating her" after his daughter Astrid -- her only grandchild -- was born in 2000. She did not elaborate, and her eldest son did not comment afterward. But he continues to serve with her on the board of one of the Heinz charities.
John Heinz surfaced briefly in the news at a 2001 cocktail gala for a Heinz enrichment program for Pittsburgh children, warranting a small notice in a Pittsburgh newspaper, but generally asks friends and family to help guard his privacy. Heinz Kerry plans to honor that request throughout the campaign, a spokeswoman said.
Heinz, a handsome, lean man with closely cropped dark hair, declined an interview with The Associated Press.
"We're just a little community school, and obviously it doesn't do us any favors if people find out about it," said Peter Ryan, who with Heinz co-founded Tinicum Art and Science, a Buddhist alternative school, in Bucks County about five years ago.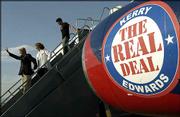 Several districts send students to the school, which mixes a classic liberal arts curriculum with Zen precepts on "mindfulness" or self-awareness and electives ranging from martial arts to yoga to metalwork.
Former neighbor Michael Carr, a lawyer, represented Heinz when he sought township approval for the school.
"My recollection was that he had done some ... work for the family foundation, and that he was interested in trying to get involved in some hands-on educational programs," Carr said.
The hangar-like school, a former woodworking factory, sits on an undeveloped field with giant sunflowers at the entrance.
In Boston last month, Heinz skipped the family photo op at the Democratic National Convention, leaving his two brothers, Andre and Chris, to share the stage with stepsisters Alexandra and Vanessa Kerry. He has no announced plans to join the campaign. "He's a very serious person, and he does not like his privacy meddled with," his mother has said.
Heinz was 24 when his father, Republican U.S. Sen. H. John Heinz III, died in April 1991 along with six others in a helicopter-small plane collision above a suburban Philadelphia elementary school. Already a trained blacksmith, Heinz soon afterward moved to Virginia, where he worked for a year as a volunteer blacksmith in Colonial Williamsburg.
Many people in Ottsville, population 3,645, seem unaware a Heinz heir lives among them.
"We have lots and lots of people that are famous or very prosperous or in some ways notable," said R. Foster Winans, director of The Writers Room of Bucks County. Like most people who know Heinz, he declined to discuss him.
"They could live in Princeton, they could live in the Hamptons, but they live here because we leave them alone," Winans said.
Copyright 2018 The Associated Press. All rights reserved. This material may not be published, broadcast, rewritten or redistributed. We strive to uphold our values for every story published.