The student art scene in Lawrence is alive and well, especially in the creative peripheries of the downtown area.
But students who want to get involved should be prepared to make the first move.
"The thing is, Lawrence is full of art opportunities for students," says Dominic Sova, a Kansas University graduate and local artist, "but you've got to be willing to make the scene yourself."
Dave Loewenstein, Lawrence artist and owner of 4-1-1 Studio, 411 E. Ninth, lends similar advice.
"The art community here is so open to people; new students are very welcome," he says. "You just have to get out and talk to people. Go to gallery show openings, talk to gallery owners, introduce yourself to people."
Such advice makes good sense, but where to start? Look no further for some suggestions on how to get your name -- and artwork -- out there:
1) Are you an art major? If so, talk to upperclassmen, graduate students and professors in your department. They can clue you in to opportunities for creating and showing art in Lawrence.
2) Some Lawrence art galleries are more likely to show student artwork than others. Several local artists, including Sova and Loewenstein, cite two galleries as being particularly student-friendly:
¢ Olive Gallery and Art Supply, 15 E. Eighth St., 331-4114
This gallery is owned and run by two KU students, Jill Kleinhans and Bailey Kivett, as well as a doctor/painter from Halstead.
"We love working with students," Kivett says. "We're always looking for fresh art."
The Olive Gallery, which also carries many art supplies, has played host to several undergraduate gallery shows since opening in 2003. Group showings and performance art are popular at the gallery, too.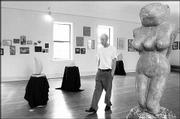 "My advice is to come in and see us," Kivett says. "We are always willing to look at whatever you've got."
¢ Ad Astra Gallery, 205 W. Eighth St., 856-4653
Joel Bales, co-owner of Ad Astra Gallery, says students are "absolutely" welcome to pitch ideas for a show at his gallery.
"In the past, we've shown work of recent graduates, but we would like to include current students, too," he says. "We're interested in all kinds of art."
Ad Astra also welcomes student volunteers, especially those interested in learning about the business of art shows and galleries.
Visit the gallery's Web site for more information: www.sun-city.net
3) House shows, which are literally art exhibits in people's homes, have gained popularity in Lawrence in recent years. Jay Gordon, a KU graduate and local artist, says house shows are a great opportunity to show artwork in a less mainstream way.
"I'd encourage new students to look into this," Gordon says. "It's a good alternative venue."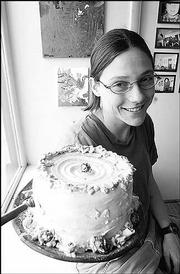 The best way to find out about house shows is to talk to other Lawrence artists, Gordon says, or even to think about organizing one of your own.
Last year, house shows were an important part of the "Red Balloon To-Do." This colorfully-named event was a one-night walking art tour, so to speak. For $1, participants received a red balloon. The balloon was a passport to shows at two local galleries and three private homes.
"The Red Balloon To-Do went over really well," Kivett says. "I know there is some talk about doing a similar thing again this fall."
4) Visit the Lawrence Arts Center, 940 N.H. This community resource offers classes and opportunities to meet other Lawrence artists. Check out www.lawrenceartscenter.com or call 843-2787 for more information.
5) Look beyond art galleries or house shows for opportunities to show your work.
"There are coffee shops and even hair salons that show art in Lawrence," Loewenstein says, citing The Bourgeois Pig, 6 E. Ninth St., and Sakaroff's, 12 E. Eighth St., as two examples.
6) Venture outside Lawrence. If you're interested in branching out, Jeff Becker, executive director of the Arts Incubator in Kansas City, Mo., welcomes you.
"Our mission is to help emerging artists have facilities to work in and to help them build business skills," Becker says.
The nonprofit organization presently has 31 artists in studio space, with room for about 20 more.
"There is a fee to use studio space, usually between $150 to $350 per month depending on space," Becker says.
The Arts Incubator also features an art gallery, for which Becker says he is always accepting proposals.
For more information, call (816) 421-2292 or visit www.incubatingarts.org/
7) Consider attending a "First Fridays" event in Kansas City's Crossroads Arts District. On the first Friday of every month, art galleries in the district open their doors from 7 p.m. to 9 p.m. New exhibits are often featured. Attending a "First Fridays" event could be the networking opportunity you've been looking for. Call (816) 472-5701 or visit www.crossroadscommunityassociation.org for more information.
Whatever artistic avenues you choose to explore, Gordon offers a final piece of advice: "Keep a DIY attitude about things -- Do It Yourself. Don't wait for a gallery to find you. Go out and find them."
Copyright 2018 The Lawrence Journal-World. All rights reserved. This material may not be published, broadcast, rewritten or redistributed. We strive to uphold our values for every story published.