Miami — Florida braced for a potential double dose of hurricanes today, ordering Florida Keys visitors to get out of Hurricane Charley's path and preparing for possible flooding as Tropical Storm Bonnie approached the already soaked Panhandle.
Bonnie, which was approaching hurricane strength Wednesday, was forecast to hit the state early today, at least 12 hours earlier than Charley. The prospect of back-to-back hurricanes prompted Gov. Jeb Bush to declare a state of emergency for all of Florida as schools and government offices announced closures and forecasters warned residents to prepare for the worst.
Such a double-whammy hasn't happened in Florida since Oct. 17, 1906, when two tropical storms hit the state, said Ken Reeves, the senior meteorologist at AccuWeather, a commercial forecasting center.
The National Hurricane Center issued a hurricane watch or warning for most of northwest Florida, from the Alabama border to the Suwannee River, because of Bonnie. The warning means hurricane conditions are possible within a day, while the watch means within 36 hours.
Charley grew to hurricane strength around midday Wednesday before spinning by Jamaica. A few rooftops were reported damaged in the capital of Kingston, where residents rushed to supermarkets to buy bottled water, flashlights and other emergency items before the storm hit. The country's main airports were shut down and cruise lines were diverted.
Charley prompted a hurricane watch for the Keys from Dry Tortugas to Ocean Reef, an area that includes Key West and Key Largo. Watches also were issued for the southwestern Florida mainland from Flamingo to just north of Naples, and western Cuba. A hurricane warning was issued for the Cayman Islands.
Charley was forecast to hit or pass close to the lower Keys late today, then hit the southwestern Florida mainland early Friday with winds of 85-105 mph, forecasters said.
Monroe County emergency officials told visitors to evacuate the entire 100-mile-long island chain. The trip can take several hours because there's only one road, the Overseas Highway, from Key West to Key Largo and only two linking Key Largo to the mainland. Residents were not being told to leave.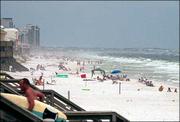 Copyright 2018 The Associated Press. All rights reserved. This material may not be published, broadcast, rewritten or redistributed. We strive to uphold our values for every story published.