It's official: The high school football season is under way.
Though Lawrence High and Free State don't start conducting drills until Aug. 16, Veritas Christian began two-a-day practices Monday at Community Bible Church, thanks in part to its affiliation with the more loosely structured Kansas Christian Athletic Assn.
The Eagles worked out for four hours Monday, and already coach Doug Bennett was seeing improvement from last year's squad that went 4-4 as an unattached school against junior varsity and varsity teams.
"We've already run plays, and it's the first day of two-a-days," Bennett said. "Normally, we'd have to spend the first half working on fundamentals, but we're able to get into play and blocking schemes already."
Veritas didn't have any limits on when it could start preseason workouts, so Bennett decided to use three weeks of preparation before the Eagles' opening game, much like other Kansas schools do in accordance with the Kansas State High School Activities Assn.
The difference is that Veritas starts competition a week earlier -- Aug. 28 against Kansas City (Mo.) East, so the first day of practice was a week earlier.
"We've got a lot of new guys that need to learn fundamentals," running back Jesse Schultz said. "But we're coming along fast, and we have high hopes for this season."
Veritas players and coaches have been working all summer in preparation for this fall's schedule. The Eagles, who will play a full varsity eight-man slate, participated in a no-pads camp in late July, and also took part in an eight-man football camp at Oklahoma A&M; College in June.
The Eagles will have Casey Woods back at quarterback, with a two-back backfield that includes Schultz and junior Paul Kempf, who played at Lawrence High as a sophomore.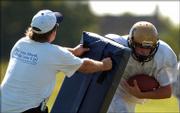 In addition, 6-foot-5 Mark Randtke will be a receiving option, and probably will cause fits for defenses with his size advantage.
"I have a lot of faith in the eight guys we put out there," Kempf said. "Every one of these guys have been through everything together."
That's what Bennett and the Eagles' coaching staff will be stressing this year. For the next three weeks, they'll make sure every nugget picked up is done as a unit.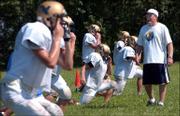 "We don't have to have the eight best athletes on the field," Bennett said. "If we play together as a team, we're going to have success."
Veritas will play its home games at Southwick Rugby Complex, south of Lawrence.
Copyright 2018 The Lawrence Journal-World. All rights reserved. This material may not be published, broadcast, rewritten or redistributed. We strive to uphold our values for every story published.