Istanbul, Turkey — One week before its opener at the Athens Games, the U.S. men's Olympic team took a step backward -- even though the Americans didn't quite see it that way.
The American team blew most of a 14-point fourth-quarter lead against a Turkish team missing Hedo Turkoglu, one of its two NBA players, before coming away with a 79-67 victory Sunday night.
It was not an encouraging performance for the Americans, who again struggled against a team that didn't even qualify for the Olympics -- just as happened earlier on their European trip against Germany.
A 19-8 run -- including several of Turkey's 11 three-pointers -- narrowed the home team's deficit to 68-65 with 31/2 minutes left before the U.S. team turned up its defensive pressure to close out the game.
"It was a good experience for us because we're going to have games like this (in Athens) when there is some adversity and they start making shots against us," coach Larry Brown said. "We're just going to have to deal with it."
Tim Duncan led the United States with 16 points, and Allen Iverson scored 13. No one else reached double figures.
Most alarming for the Americans was the way the team's core of youngsters, including LeBron James, Carmelo Anthony and Dwyane Wade, couldn't keep Turkey from making a game of it down the stretch.
Though Brown admitted he was tempted to leave his youngsters in, he reinserted the team's elder statesmen, Duncan and Iverson, who steadied the team to help close out the victory.
"I am happy that we're getting better and starting to become a team, but we have a ways to go," Iverson said. "As long as we recognize we have to do more, we'll be all right. If we felt like we were there, it would be something to worry about."
Ibrahim Kutluay led Turkey with 19 points, and Serkan Erdogan added 17.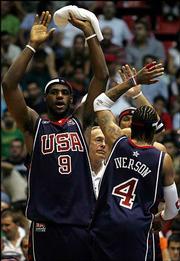 Copyright 2018 The Associated Press. All rights reserved. This material may not be published, broadcast, rewritten or redistributed. We strive to uphold our values for every story published.