After getting his morning coffee Sunday, Mike Elwell drove through a downpour to downtown's Buford M. Watson Jr. Park, where Democratic vice presidential candidate John Edwards was scheduled to speak later in the day.
A stage had been set up at the north end of the park, along with open-air tents for the media. Everything was drenched, and getting more so.
"I saw a bunch of people standing in the park, looking forlorn," said Elwell, owner of Abe & Jake's Landing.
So Elwell -- a Republican -- offered his business as a dry alternative.
"A half-hour later (at 9 a.m.), about 30 people showed up and said, 'This is the spot,'" he said.
Thus began the hurried process of transforming the downtown tavern and concert venue -- which still hadn't been cleaned after a Saturday night event -- into the site of a political rally.
Playing catch-up
By the time Edwards appeared four hours later, security forces had swept the 22,000-square-foot building to ensure its safety, an American flag and campaign banners had been hung from the stage and platforms built to hold the media.
"Mass confusion," Mike Logan, general manager of Abe & Jake's, said late in the morning as campaign staffers, police and volunteers scurried around. "But it will all come out."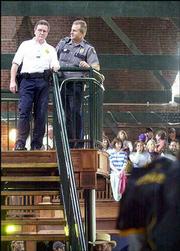 Lawrence Police Chief Ron Olin wouldn't comment on specific security arrangements. But he acknowledged that the short notice -- police had been told only the day before that Edwards would be in town -- forced his department to scramble. Police were joined by the Douglas County Sheriff's Office, Kansas University Public Safety Office and the Kansas Highway Patrol.
"Generally speaking, we have weeks of notice," Olin said. "In this case, we have hours. We're trying to play catch-up in assisting the Secret Service."
720 inside
But he said the late change of venue from the park to the tavern actually helped police with efforts to maintain security.
"Being indoors is better than a park," he said. "So in some ways this has fallen together well."
The Secret Service security sweep had to be done before any other work.
"It was detailed," Logan said. "The whole building, every exit."
As the public was allowed in the building at noon, agents waved "wands" over members of the crowd to check for guns or other metallic objects. A Secret Service agent walked up to a short man wearing an open backpack, quickly peered into the backpack and walked away, all without the man knowing he had been scrutinized.
Security wasn't limited to police and Secret Service. A firefighter was on hand to count people entering the building to ensure the crowd did not exceed Abe & Jake's capacity of 720 people.
"I personally counted them," said Paul Schneider of Lawrence-Douglas County Fire & Medical. "And that's the building capacity; after that, we started turning them away." It was unclear whether the total included dozens of campaign workers, members of the media and law enforcement and emergency officials also in the building.
2,000 outside
Late arrivals weren't daunted, however. They gathered outside, listening to speakers as Edwards' indoor speech was piped out to them. Later, Edwards and his wife, Elizabeth, came outside to greet the crowd filling the lawn of Lawrence City Hall and spilling onto two levels of the mall's parking garage. Six Secret Service agents flanked Edwards as he mounted a set of wooden steps to speak.
The candidate was only a few yards from the closest members of the crowd, who were kept back by ropes. One woman waving a small American flag on a stick crowded the rope.
"Ma'am, please watch the flag," a young agent wearing a black suit and sunglasses said to the Edwards supporter. "You're poking me with it."
No official count was made of the crowd outside, but estimates ranged from about 1,000 to more than 2,000.
Work on the event began early Saturday, hours after the Kerry-Edwards train rolled past more than 1,000 people at the Lawrence Amtrak depot without slowing down.
"They didn't say, 'Can we come?'" said City Manager Mike Wildgen, who took the first calls from the campaign Saturday. "They said, 'We're coming.' And we started talking about where they could go."
Another train
Wildgen suggested South Park, but the campaign was more interested in Watson Park -- home to a retired train engine.
"That's why we were going to have it" in Watson Park, said Larry Gates, chairman of the Kansas Democratic Party. "The train there is stopped."
But the rain didn't stop until late morning, and the decision was made to move to Abe & Jake's.
Two people were stricken by heat exhaustion Sunday during John Edwards' visit to Lawrence, officials said.One woman inside Abe & Jake's Landing collapsed from heat exhaustion and was assisted to an ambulance, where she was transported to Lawrence Memorial Hospital for treatment, said Division Chief Rob Kort. He said the woman's condition did not appear to be serious.Another person outside Abe & Jake's was treated for heat exhaustion at the scene, Kort said.
The first rain-drenched supporters were in line outside the entrance shortly after 9 a.m., though they wouldn't be allowed in the building until noon. After a Saturday evening in which volunteers had handed out fliers advertising the park rally, news of the new venue spread by word-of-mouth, a frenzy of cell-phone calls and hastily made signs posted on streets around the park.
After four hours of preparations, Edwards' motorcade rolled into Douglas County from Shawnee County -- where his plane had landed at Forbes Field -- about 12:20 p.m., en route to the 1 p.m. event.
'Great opportunity'
Elwell said that, as a Republican, "it's very unusual" for him to be so involved with a Democratic event. He said he charged nothing as host of the event.
"A lot of people had planned on it, and it's a great opportunity for Lawrence to hear from a possible future vice president," Elwell said.
Still, he said, "I imagine the cleanup will be lengthy, with all the duct tape and extension cords we've loaned out."
Wildgen said off-duty police officers were called in to work traffic and security Sunday. They will be paid overtime, with the cost to be paid by Lawrence taxpayers.
"Just like the Dole center and Clinton," Wildgen said, referring to two Lawrence events in the past year featuring former presidents. "We have visitors, we take care of them."
-- Staff writer Mike Belt and city editor Mike Shields contributed to this report.
Copyright 2018 The Lawrence Journal-World. All rights reserved. This material may not be published, broadcast, rewritten or redistributed. We strive to uphold our values for every story published.