Anjali Datta, 12, doesn't say much about the new title she's acquired.
But as of this month, Anjali is the U.S. Chess Federation's highest-ranked girl under 13 in the United States, and ranks 51st regardless of age based on standings.
"Not that many girls play chess," Anjali said.
She began playing chess five years ago after watching her brother, 14-year-old Deepyaman, play for a couple of years. And he's no slouch, either.
Deepyaman, who provides Anjali with some instruction, was ranked 21st in the 14-year-old age group as of this month. He also has an "expert" ranking. That's based on the number of points he has accumulated through playing.
Not bad for a boy who basically fell into the game. He decided to sign up for chess while attending Quail Run School. He knew nothing about the game, but found he enjoyed it.
"I like the problem solving involved," he said. Anjali agreed, adding that no two chess games are the same.
Deepyaman and Anjali have traveled to tournaments in Chicago, St. Louis and Dallas are more common destinations.
"Traveling is one of the great things about playing chess," Deepyaman said.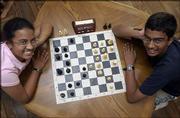 The two local chess whizzes left Saturday for Fort Lauderdale, Fla., for a week of chess.
Deepyaman will represent Kansas in the Denker Tournament of High School Champions, which features the top high school player from each state. Anjali will play in the Susan Polgar Invitational, which features the top girls under 19 from each state. She also will compete in Greece at the World Youth Championships in November for a second time. She first competed in 2002.
The siblings play chess about two hours a day during the school year. They said they played more in the summer, when they're not involved with other activities, such as tennis and the piano.
But the youths aren't just resting on their laurels. Deepyaman said they both continued to study the game. They own about 50 books on chess and several computer chess programs. Deepyaman also takes lessons online from a grand master, Vladimir Kosyrev, who is based in Moscow.
Technology has provided Deepyaman and Anjali opportunities to improve their game, said their father, Deepak Datta.
"They're not going to be professional chess players," Deepak Datta said. "But I think the payoff is that they will do well on a variety of fronts."
Copyright 2018 The Lawrence Journal-World. All rights reserved. This material may not be published, broadcast, rewritten or redistributed. We strive to uphold our values for every story published.