Baghdad, Iraq — In a last-ditch effort to avert all-out war between U.S. forces and Shiite rebels, Iraqi Prime Minister Ayad Allawi made an unannounced visit Sunday to the embattled city of Najaf to urge Shiite militiamen to lay down their arms.
Protected by up to 100 bodyguards, including heavily armed American security contractors, Allawi visited the offices of the governor of Najaf and appealed to the rebels to leave the city "and abide by the law."
Even as he spoke, explosions and gunfire reverberated from a nearby cemetery, where U.S. Marines launched a fresh assault against Shiite militiamen.
In an effort to toughen its response to the insurgency, Iraq's government announced Sunday that it was restoring the death penalty -- suspended during the U.S. occupation -- for murder, endangering national security and distributing drugs and other serious crimes. The previous day, Allawi announced an amnesty for low-ranking rebels not guilty of killing, in an effort to lure Iraqis away from the Sunni and Shiite insurgencies.
Despite Allawi's appeal in Najaf, there seemed to be little prospect of a cease-fire to end four days of fierce fighting between U.S. forces and the al-Mahdi Army, the Shiite militia loyal to cleric Muqtada al-Sadr.
U.S. military officials said three combat battalions from the Army's 1st Cavalry Division arrived in Najaf to reinforce the 11th Marine Expeditionary Unit, which has been battling the Shiite rebels for control of Najaf since Thursday.
There were continued skirmishes also in Baghdad's Sadr City, where a U.S. helicopter was hit by small-arms fire and forced to make an emergency landing. There were no injuries, the military said.
Volleys of mortars slammed Sunday evening into downtown Baghdad, wounding at least 11 people, according to news agency reports.
Insurgents have sharply escalated their attacks in Baghdad in recent days, firing dozens of mortars toward the fortified Green Zone where the U.S. Embassy is located, as well as into other parts of the city. The dull thump of exploding mortars echoed throughout the day and into the night.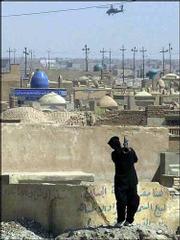 Health officials said more than 40 people were killed in Baghdad in weekend violence, and U.S. military officials say hundreds of militia fighters have been killed in Najaf in the bloodiest battles in more than two months.
But with a 2-month-old cease-fire now in tatters, and the newly revived Shiite rebellion threatening to engulf Baghdad and much of southern Iraq, most Iraqis were bracing for further violence.
Allawi did not meet with al-Sadr, the rebel leader, or any of his representatives during his brief visit to Najaf and said he was not prepared to enter into negotiations with him.
"There is no negotiation with any militia that bears arms against Iraq and the Iraqi people," he told reporters.
U.S. officials also said they were in no mood to negotiate another truce with al-Sadr's militia.
Hazim al-A'raji, a spokesman for al-Sadr in Baghdad, said the militia did not intend to heed Allawi's call.
"Al-Mahdi Army elements are bent on martyrdom, God willing. Tens of thousands of Iraqis are heading to al-Najaf, God be praised," he said.
Copyright 2018 The Lawrence Journal-World. All rights reserved. This material may not be published, broadcast, rewritten or redistributed. We strive to uphold our values for every story published.