More than 1,000 cheering people greeted the Amtrak train carrying candidates John Kerry and John Edwards as it rolled through town just before 1 a.m.
The train passed the station moving about 25 mph. As the last car cleared the station platform, Kerry momentarily stepped outside and waved before ducking back inside.
The train arrived an hour and 15 minutes after campaign organizers had predicted and almost five hours after the crowd began assembling.
"That's all?!" yelled a man from the crowd.
Then there was a collective groan that evolved into roars of laughter before the crowd quickly dissipated.
"Well, we at least thought they'd do a slow roll," said Julie Tucker, of Lawrence.
"I think they sped up," said one Lawrence policeman working crowd control.
The train was headed toward Denver after Kerry and Edwards spoke to thousands of people at Union Station rally in downtown Kansas City, Mo.
Some Kerry supporters arrived at the Lawrence station at Seventh and New Jersey streets early and set up lawn chairs. Fourteen members of the Local Laborers No.142 of Topeka wore red "Laborers for Kerry 2004" T-shirts.
A group of eight Lawrence anarchists held cardboard signs one of which read: "Kerry, their blood is on your hands: 20,000 Iraqis, 920 Americans, hundreds of others." The group was questioned by Kerry supporters who wondered why they were there.
"Would you vote between (Cambodian dictator) Pol Pot and Hitler?" chided protester Dave Strano. The anarchist group appeared at the Amtrak station despite a recent FBI probe of Lawrence residents about a similar group's supposed plan to bomb media trucks at the Democratic National Convention.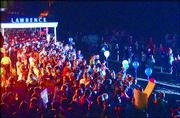 "We're just a group of autonomous, concerned citizens," Strano said.
While they waited, people spilled onto both sides of the tracks. Some laid coins on the tracks to collect as souvenirs after the train passed. Police squelched that about 11:35 p.m. when they ordered people to remove their coins from the rails.
The crowd included a few Democrat functionaries, including Jim Garner, secretary of human resources in the administration of Gov. Kathleen Sebelius.
A few Republicans also ventured to the station to see the fuss over Kerry.
"It's great to see so many people involved and thinking about November," said Lawrence resident Eric Haar, who wore two Bush/Cheney stickers on the chest of his polo shirt. "I have nothing but positive things to say about the crowd, but I'm not keen on the candidate."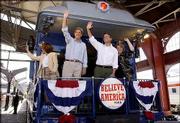 At 11:40 p.m., Lawrence police, some of whom estimated the crowd was in excess of 1,000 people, announced over a loudspeaker that another train would pass through before Kerry's. The candidate would arrive about an hour after the regularly scheduled Amtrak passenger train, they said.
"Help is on the way," yelled someone from the crowd, repeating the Kerry tagline.
After police ushered the crowd to the south side of the tracks, the crowd extended about 150 yards up and down the platform. Some people were perched on the catwalk of a parked switch engine.
Marlene Morrow and her sister Mia McKaughan were waiting, suitcases in hand, to board the early train. They had been in Lawrence visiting family and were headed to Raton, N.M.
"This is quite a sendoff," Morrow said. "If we miss this train, Kerry better be very nice."
The early train arrived at 12:25 a.m. Police had to part crowds for nine boarders. Surprised passengers gazed out train windows as the conductor waved goodbye to the cheering crowd.
Not everyone in the crowd was of voting age. Kathrine Jones, 15, came with her friend Jessica Jacques, 15, carrying Kerry signs. They came at the urging of Jones' older sister, Brittany Price.
"It would be good to know who I'm voting for," Price, a student at the University of Arkansas, had told her younger sister.
Many of those who waited for Kerry wanted to prove that Democrats exist in Kansas.
"We thought even if he stopped even for a few seconds or not stopped at all, we want them to know there are people in Kansas for regime change," said Becca Townsend, a senior psychology major at Kansas State University and Overland Park resident.
-- Staff writer Joel Mathis contributed to this story.
Copyright 2018 The Lawrence Journal-World. All rights reserved. This material may not be published, broadcast, rewritten or redistributed. We strive to uphold our values for every story published.