Gardners, Pa. — At 3,213 feet, Mount Davis in Somerset County lords over the wild rivers of southwest Pennsylvania. And as the state's highest point, it makes for one rewarding (and fairly easy) hike.
Ricketts Glen State Park, which stretches across three counties in northeastern Pennsylvania, boasts 22 waterfalls in one 7-mile stretch. Presque Isle State Park's sandy paths along Lake Erie lead past exotic birds. Cutting across the state, the Appalachian Trail invites users into a corridor of nature, where traffic jams, computers and the modern world's troubles are left behind.
'Ideal hiking state'
Park planners put a state park within 25 miles of any point in Pennsylvania, according to John Young, author of "Hike Pennsylvania," making hiking an easy-to-get-to outdoor activity.
"Pennsylvania is an ideal hiking state. It's accessible, it's free," Young said. "All you need to hike in Pennsylvania is a good pair of shoes."
Ice cream celebration
Pine Grove Furnace State Park, about 30 miles southwest of Harrisburg, marks the halfway point of the 2,174-mile Appalachian Trail. Thru-hikers (those who hike the entire trail from Spring Mountain, Ga., to Mount Katahdin, Maine) traditionally celebrate the halfway point by eating a half-gallon of ice cream from the park's general store.
C.B. Brown, 42, a carpenter from Basalt, Colo., reached Pine Grove four months after starting out on the trail in Georgia.
"I love it out here, you can't beat it," Brown said, motioning to the thick canopy of trees surrounding him. "You can't see absolutely anything, and it's one of the prettiest spots you'll see."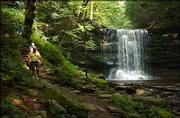 Just up the trail from Brown's campsite, a post and trail book marks the halfway point. One hiker scribbled a note dated May 18, before the store opened for the season: "Disappointed in no ice cream at the 1/2 way, I trudge on another 1000 miles for a full gallon instead."
Sand, songbirds
Far away from the Appalachian Trail's tree cover, Presque Isle offers a completely different hiking environment. The far eastern point of the peninsula is actually growing, as sand carried by waves and currents build up.
Instead of packed dirt or hard rock, the isle's hiking trails are on packed sand. Songbirds here come in a carnival of colors: deep purplish brown, bright red, vibrant yellow. Even wild turkeys can be seen walking among the small trees.
While researching his book "Hike Pennsylvania," Young took more than 50 hikes in the state. He called Presque Isle a "must-do," but says Ricketts Glen, about 70 miles northeast of Harrisburg, is his favorite.
Hike Pennsylvania: Book describing trails, campgrounds, B&Bs;, local history etc. To order, send a check for $22 to Windy Knoll Productions, R.D. 2, Box 2204, Russell, Pa., 16345.Pennsylvania Parks: www.dcnr.state.pa.us/stateparks/ or (888) PA-PARKS.Appalachian Trail:www.nps.gov/appa/ or (304) 535-6331.North Country Trail:www.northcountrytrail.org/ or (866) HIKE-NCT.Allegheny Front Trail: The trail encircles Black Moshannon State Park, located in Philipsburg;www.aft.altoona-pa.com/ orwww.dcnr.state.pa.us/stateparks/parks/blackmoshannon.aspx or (814) 342-5960.Mount Davis: Located in Laughlintown, in Forbes State Forest;www.dcnr.state.pa.us/forestry/stateforests/forbes.aspx or (724) 238-1200.Ricketts Glen State Park: Located in Benton.;www.dcnr.state.pa.us/stateparks/parks/rickettsglen.aspx or (570) 477-5675.Presque Isle State Park: Located in Erie;www.dcnr.state.pa.us/stateparks/parks/presqueisle.aspx or (814) 833-7424.Pine Grove Furnace State Park: Located in Gardners;www.dcnr.state.pa.us/stateparks/parks/pinegrovefurnace.aspx or (717) 486-7174.Mount Minsi: Located in the Delaware Water Gap National Recreation Area;www.nps.gov/dewa/ or (570) 588-2452.
Two dozen waterfalls
A confluence of creeks running down the Allegheny Front Trail make for almost two dozen waterfalls at Ricketts Glen. All that water makes for a cool ravine filled with big, leafy plants. The force of water also means the park is always changing: a waterfall moves back after its rocks crumble away, or a tree is downed across the foot path or creek.
"Ricketts Glen has more to offer than any other hike," Young, 58, said. "It's the most rewarding experience. It's almost spiritual."
Favorite hikes
Other hikes Young likes: l Mount Minsi in Delaware Water Gap National Recreation Area. The Appalachian Trail exits Pennsylvania at this point, but before it does, Mount Minsi provides a great climb that leaves you with a sense of accomplishment. "That's a memorable spot because you can get so high," Young said. "It's hard to get up there, too, so you're rewarded."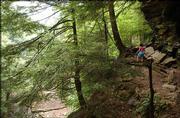 l The North Country Trail, part of a 4,000-mile, east-to-west trail that runs from North Dakota, through the Upper Peninsula of Michigan and ends in New York. In Pennsylvania, the trail comes in southwest of Pittsburgh and leaves near the Allegheny Forest.
'Good for the soul'
Back on the Appalachian Trail at Pine Grove Furnace, Brown was preparing some tea over a small fire at a lean-to shelter. In the background, cicadas provided a natural symphony.
"It'd be good if everyone could see this," he said, motioning to the surrounding forest. "It's good for the soul."
Copyright 2018 The Associated Press. All rights reserved. This material may not be published, broadcast, rewritten or redistributed. We strive to uphold our values for every story published.