Nearly 140 years ago, Union and Confederate soldiers clashed in Linn County during the only major Civil War battle in Kansas.
Saturday, the state's first and only monument to Confederates killed in action, the Mine Creek Battlefield, was unveiled during a special ceremony at the site. About 300 Confederate soldiers are buried there in unmarked graves.
"We just wanted to do something to let people know when they are visiting that battlefield that the ground they are walking on is hallowed ground and that there are soldiers buried there," said James Speicher, a member of the Major Thomas J. Key Camp 1920, of the Sons of Confederate Veterans.
For the past two years the Sons of Confederate Veterans group worked to raise $2,500 to pay for the monument. The memorial project received the support of the Mine Creek Battlefield Foundation, which owns 320 acres of the 600-acre battle site.
The remainder of the battlefield, along U.S. Highway 69 about three miles southwest of Pleasanton, is owned by the Kansas State Historical Society. The Historical Society decided against having the memorial on its property. Instead, next to the site's museum and visitor's center is a battlefield monument considered to be a memorial to both sides.
"They just didn't feel it was appropriate to have a Confederate memorial," said Speicher, of Shawnee, during an interview last week. "They were being politically correct."
The Mine Creek foundation, however, had no such qualms, said Dr. John Spencer, a Fort Scott physician who is the foundation's president.
"I think it's definitely appropriate to have a Confederate memorial because of the casualties there, and that's never really been acknowledged by a memorial," Spencer said.
There were only about a dozen Union troops killed in the battle, but they aren't buried on the site, Speicher said.
The battlefield foundation was organized in 1999 to support the historic site in partnership with the Historical Society. It is made up of several people who bought additional areas of the battlefield the state couldn't afford to buy.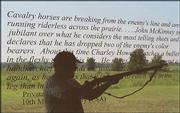 The foundation knew a Confederate memorial might be controversial, Spencer said. A questionnaire was sent to people and businesses in the area to solicit opinions. Out of the eight responses, only one opposed the memorial, saying the state's visitor's center monument was all-inclusive and adequate.
"We got a pretty good response, and the state said it would not oppose it," Spencer said.
The granite memorial is about a quarter of a mile from the visitor's center in a little grove of cedar trees. A pathway leads to it.
"It is in an area very close to where the first Confederate defense line was located," said Speicher, a retired Army colonel. "It's very historically placed."
Copyright 2018 The Lawrence Journal-World. All rights reserved. This material may not be published, broadcast, rewritten or redistributed. We strive to uphold our values for every story published.