St. Louis — Year three of the St. Louis Cardinals' Japanese experiment appears to be a success.
The Cardinals never envisioned outfielder So Taguchi as the type of player to rival a luxury import such as Ichiro, or even Hideki Matsui. What they wanted was a contributor, and in the final season of a three-year, $3 million contract, Taguchi has become just that.
The backup outfielder is capable defensively, and at the plate he has maximized his abilities with a spray-hitting style, hitting .286 through 21 at-bats. He made his fourth start Saturday and was 3-for-5 with a double, stolen base and two runs scored, and he also made a nice running catch to help Jason Marquis escape a bases-loaded, none-out predicament in the fifth inning of a St. Louis victory.
"He's made some adjustments," manager Tony La Russa said. "He's doing things differently at the plate, and he's making harder contact. And he's outstanding defensively. Excellent."
Among the adjustments not to be taken for granted is Taguchi's improved command of the English language. He has honed his communication skills watching children's programming and movies such as "Monster's Inc." and "Finding Nemo" to the point he can understand most of what is being said to him and make himself understood as well.
Also, he has picked up a lot hanging around teammates who make it a point to include him. During the team's opening trip to Arizona, Taguchi twice was part of big groups that went out to dinner after the game.
"It's not easy for him," catcher Mike Matheny said. "I can't imagine us trying to learn Japanese and going over there without any other Americans.
"But he's doing better all the time. All in all, he makes a great effort, and I think he's coming along not just with that, but in baseball, too."
La Russa said Taguchi might have made more of an impact last year, except the team was so well-stocked in the outfield. The offseason trade of J.D. Drew and Eli Marrero, plus the departure of utility players Miguel Cairo and Eduardo Perez opened the door.
"I'm just getting more chances this year," Taguchi said. "I know my role. Sometimes I start, and most of the time I'm coming off the bench."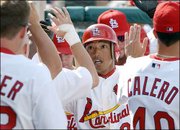 He has been playing more lately due to Ray Lankford's hamstring injury. Lankford could be back in the lineup today at Houston.
"If nobody gets hurt, it's best for the team," Taguchi said. "It's too bad Ray is hurt. But I have to make good on my chances."
Taguchi is a former No. 1 draft pick of the Orix Blue Wave in the Japanese League and made the switch to the United States at age 32. He was held back his first two seasons by a lack of overall polish and spent most of the 2002 and '03 seasons at Triple-A Memphis, batting .247 the first year and .256 last season.
But he had success in his brief trials with the major-league club, batting .290 overall with three homers and 15 RBIs in 62 games over the last two seasons.
He won a backup job with a strong spring, batting .345 and finishing second on the team with 19 hits.
Copyright 2018 The Associated Press. All rights reserved. This material may not be published, broadcast, rewritten or redistributed. We strive to uphold our values for every story published.