Minneapolis — When Minnesota lost Torii Hunter and Joe Mauer to injuries, manager Ron Gardenhire asked his players to come together as team.
They have responded with five straight victories.
Jacque Jones had two doubles, a triple and four RBIs, and the Twins beat Kansas City, 8-3, Sunday to complete a three-game sweep.
"Nothing surprises me in this clubhouse, these guys can play," Gardenhire said. "They're into it, pulling for each other, and we're having some fun out there."
"We just want to keep putting pressure on the other team," Jones said.
Joe Randa homered and doubled, and Tony Graffanino had three singles for Kansas City, which has lost six in a row -- the Royals' longest losing streak since dropping eight straight from Sept. 1-10, 2002.
"We'll still just have to stay positive," Kansas City manager Tony Pena said. "Sooner or later we'll figure this out."
Lew Ford, playing in place of Hunter, made three great plays in center field while driving in his seventh run in five games.
"You know its contagious and when some people are hitting good others follow," Ford said. "I'm just doing whatever they need me to do."
Minnesota's unselfish team play extended beyond the field. In the pregame ceremonies, Hunter gave his 2003 Gold Glove award to Jerry White, thanking the first-base coach for helping him throughout his major league career.
"I had tears in my eyes earlier and I'm still in shock," White said of Hunter's gesture. "I am so happy for him and I thought it was a great gift to give someone."
Luis Rivas hit a two-run homer and Doug Mientkiewicz had three hits for Minnesota, which has scored four or more runs in 10 of their first 12 games.
Royals starters still have not won a game this year.
"The way we're pitching right now, it's going to be a struggle," Pena said. "We just have to keep playing hard."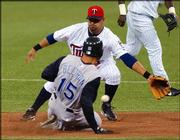 Kansas City is 4-8 after going 11-1 at the start of last season.
"It was a lot more fun than it is right now," left fielder Aaron Guiel said.
Joe Roa (1-0) allowed one hit and struck out two in 2 1-3 scoreless innings for his first victory with the Twins. Roa and bullpen mates Aaron Fultz and Juan Rincon combined to allow two hits and strike out seven in five innings.
"There are a lot of gamers out there," Roa said. "Everybody wants the ball."
Starter Seth Greisinger lasted just four innings, giving up three runs -- two earned -- and six hits.
Darrell May (0-3) struck out eight but needed 120 pitches to get through 5 1-3 innings. He allowed six runs -- four earned -- and nine hits.
With Minnesota trailing 3-2 in the fifth, Jones hit a two-out, two-run double after Rivas' double and a throwing error by Randa at third on Jose Offerman's grounder.
Rivas made it 6-3 in the sixth with a two-run homer. Four of his six career hits off May have been homers, and 12 of his 21 home runs have come against the Royals.
"He's making a living off our team," May said.
Jones added a two-run triple off Shawn Camp later in the inning.
Graffanino hit an RBI single in the second, but Minnesota went ahead 2-1 on Ford's RBI single in the bottom half and Michael Cuddyer's run-scoring double in the third.
Randa homered in the fourth and Kelly Stinnett scored from first later in the inning when Greisinger threw Graffanino's bunt single into right field for an error.
Notes: Hunter, on the disabled list since April 6 with a strained right hamstring, received his third consecutive Gold Glove award. He has one and his mother has one. He is set to come off the disabled list on Thursday. ... Mauer still has two or three weeks to recuperate his injured left knee. ... Minnesota's Rick Helling, recovering from a broken right leg, pitched two innings and threw 45 pitches in a Gulf Coast League game. He also threw 30 pitchers in a simulated game afterward. ... Rookie SS Andres Blanco got his first major league hit with a bunt single in the third. He then stole his first base. ... Kansas City's pitching staff is 0-3 with 8.21 ERA during the six-game losing streak.
Copyright 2017 The Associated Press. All rights reserved. This material may not be published, broadcast, rewritten or redistributed. We strive to uphold our values for every story published.