My car's back seat is a mess.
Actually it's not a backseat but rather the back end of a two-door Toyota RAV with the rear seats removed. It provides a great working space and an area for hauling all my camera gear. To be sure, most newspaper photographers are equipped with more than a camera and lens.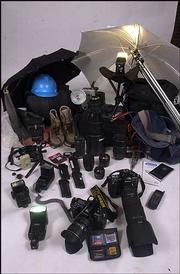 Here's a personal inventory of some of the equipment in my car:
Two Nikon D1H cameras. This enables you to have both the wide and telephoto zoom lens on a camera ready to use. A second body also provides a backup.
Four Compact Flash cards (128mb-256mb).
Six rechargeable camera batteries. Your can never have enough of these.
A 17-35mm zoom lens, my most used lens.
A 50, 85, and 60mm macro, 80-200 zoom lens.
A 300mm lens for sports and nature.
A 500mm lens. Mountain lions?
A 1.4 Teleconverter, which increases the length of telephoto lenses.
Five battery-operated flash units.
A table tripod and a flash stand.
A flash remote cord.
Four wireless remote flash sensors, which trigger a portable flash off the camera and without cords attached.
A radio transmitter/receiver system. Like an automatic garage-door opener, the transmitter connected to a camera sends a signal to a receiver to trigger flashes or remote cameras.
Two quartz bulb lights with stands and umbrellas.
A black umbrella, for rain.
Four bags, cases and packs for equipment.
A bag of extreme weather clothes, including hiking boots, knee-high rubber boots, gloves, poncho, rain pants and wool hat. Knee-high boots are good for floods and farms.
A hard hat, which is usually required at construction sites.
A Leatherman tool, 50-foot extension cord and jumper cables.
A three-legged, collapsible stool -- for fishing. Umm, I mean sports and work-related stuff.
A cell phone, notebook, calendar and 16-Channel police, medical and fire scanner.
A container of cat litter. I forgot to take it in to my house.
Next month I'll recommend a good chiropractor.
Copyright 2017 The Lawrence Journal-World. All rights reserved. This material may not be published, broadcast, rewritten or redistributed. We strive to uphold our values for every story published.