Prosecutors on Thursday filed manslaughter and driving under the influence charges against the truck driver suspected of causing the wreck that killed a Baker University student Tuesday on U.S. Highway 56.
Yan R. McHenry, 46, Dallas, faces a maximum sentence of more than 10 years in prison if convicted of the manslaughter charge. Results of blood samples taken from McHenry after the wreck are pending, but prosecutors suspect he was under the influence of drugs, alcohol or a combination of the two.
"We feel that he is a threat to the community," Assistant Dist. Atty. Brandon Jones said during a court hearing. "He's alleged to have taken the life of an innocent young man while driving under the influence."
McHenry, who works for Austin, Texas-based Goodnight Express, made a brief appearance in Douglas County District Court by videoconference from the Douglas County Jail. He told Judge Pro Tem Peggy Kittel it was his first trip to Kansas.
Jones alleged five counts against McHenry: one count of involuntary manslaughter, three counts of aggravated battery and one count of driving under the influence. He cited McHenry's lack of ties to the community as one reason for requesting a $150,000 bond.
Kittel asked McHenry whether he had any comments before setting his bond, and he asked for a bond reduction.
"I would like to have a chance to continue ... being a father and continue working," he said.
Kittel then accepted the prosecution's bond recommendation based on the seriousness of the charges.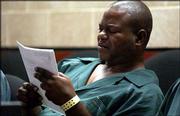 "If you're convicted, there's a high likelihood you're going to prison," Kittel said.
McHenry's next court appearance will be Tuesday.
The wreck on U.S. Highway 56 injured three people and killed Baker University student Shawn Trager, 19.
McHenry is on parole in Texas for a cocaine charge.
Copyright 2018 The Lawrence Journal-World. All rights reserved. This material may not be published, broadcast, rewritten or redistributed. We strive to uphold our values for every story published.