Lawrence resident Don Schaake was paying close attention Wednesday to news about the ambush and killing of four American civilian contractors in Iraq.
Schaake's son, Kurt Schaake, is a civilian contractor who has been in Iraq since October.
"Contractor -- that's the magic word, isn't it?" Don Schaake said.
He last heard from his son, a civil engineer, in a letter he received a couple of days ago. But Schaake said he didn't think his son was in the area where Wednesday's killings took place. Nor has anyone called to tell him his son had been hurt.
"I guess no news is good news," Schaake said.
The four American contract workers were killed in Fallujah, a Sunni Triangle city about 35 miles west of Baghdad and scene of some of the worst violence on both sides of the conflict since the beginning of the U.S. occupation a year ago.
Chanting "Fallujah is the graveyard of Americans," residents cheered after the grisly assault on two four-wheel-drive civilian vehicles left both SUVs in flames.
Residents in Fallujah said insurgents attacked the contractors with small arms fire and rocket-propelled grenades. After the attack, a jubilant crowd of civilians, none of whom appeared to be armed, gathered to celebrate, dragging the bodies through the street and hanging two of them from the bridge. Many of those in the crowd were excited young boys who shouted slogans in front of television cameras.
Associated Press Television News pictures showed one man beating a charred corpse with a metal pole. Others tied a yellow rope to a body, hooked it to a car and dragged it down the main street of town. A corpse was carted through town as people slashed it with knives. Two blackened and mangled corpses were hung from the green, iron bridge spanning the Euphrates River.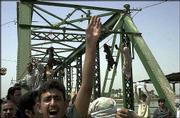 "The people of Fallujah hung some of the bodies on the old bridge like slaughtered sheep," resident Abdul Aziz Mohammed said. Some corpses were dismembered, he said.
Memories of Mogadishu
The White House blamed terrorists and remnants of Saddam Hussein's former regime for the "horrific attacks" on the American contractors.
U.S. officials did not identify the dead or the nature of their work because the next of kin had not been notified. But company officials said they worked for Blackwater Security Consulting, of Moyock, N.C., which has a contract with the Pentagon to provide security for food convoys in the Fallujah area.
The abuse and mutilation of the contractors' corpses was similar to the scene more than a decade ago in Somalia, when a mob dragged corpses of U.S. soldiers through the streets of Mogadishu, eventually leading to the American withdrawal from the African nation. The images were broadcast worldwide, and the mission became the subject of the book and movie "Black Hawk Down."
Wednesday's images of the four civilians killed in Iraq filled television screens worldwide, but were largely shunned by American television that deemed them too graphic.
The deaths brought to 16 the number of foreign civilians killed in Iraq since March 9. Before Wednesday, six Americans, two Finns and one citizen each from Britain, Canada, Germany and the Netherlands had been slain.
The extraordinary attacks stunned U.S. officials and signaled a new level of violence and brutality in an insurgency that has directed its lethal energy at every symbol of the American-led occupation: troops, contractors, aid workers, and Iraqis viewed as collaborators. Even on the battle-scarred streets of Fallujah, residents said they were shocked by the ferocity of the insurgents and their sympathizers.
Expatriate's view
Though he was shocked at their viciousness, the latest attacks didn't surprise Harith Hamid, who fled Iraq in 1980 and now lives in Lawrence.
"Fallujah is a tribal town where Saddam Hussein had many supporters," he said. "Iraq is going to be a battleground in the war against terrorists for a long time to come."
Because Iraq was ruled by Saddam Hussein's dictatorship for decades, religious factions were the only organized groups to step in after Saddam's ouster, Hamid said.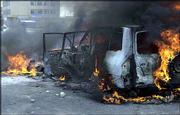 He insisted, however, the situation was improving in Iraq despite the continuing attacks. Hamid said he based his conclusion on his own observations and communications with family and friends still in Iraq, including Baghdad.
Still, he said, most Iraqis see confusion about what will happen when Iraqis take over control of their government from Americans this summer, Hamid said.
"There is a very vague picture of how that will develop and adds to the unknown," he said.
Hamid also said the constant debate in the United States over whether Bush did the right thing in going to war to unseat Saddam was encouraging insurgents and terrorists in Iraq.
"They take that out of context, and it undermines the safety of our troops and the stability in Iraq," he said.
Safety concerns
Safety became a special concern one recent day to the guard who travels with Kurt Schaake, according to the recent letter to his father in Lawrence.
In the letter, Kurt Schaake described how he was sent to conduct a seminar for Iraqi civilian contractors, expecting only a few people to show up. Instead about, 300 Iraqis arrived.
"I guess his (guard) got nervous and called in the First Infantry Division," Don Schaake said. "They sent a tank, a Bradley (fighting vehicle) and some Humvees."
The military wasn't needed and the crowd was friendly, according to the letter. In fact, Kurt Schaake noted in his letter that after the seminar he signed autographs for the Iraqis for 45 minutes.
"He thinks he's still doing fine and getting a lot accomplished," Don Schaake said.
Kurt Schaake had moved to an area well north of Baghdad, into more friendly Kurdish territory, his father said.
---
Journal-World wire services contributed to this story.
Copyright 2018 The Lawrence Journal-World. All rights reserved. This material may not be published, broadcast, rewritten or redistributed. We strive to uphold our values for every story published.