For the first time in years, if ever, the Douglas County Chapter of the American Red Cross soon will have a fully equipped van that can be used to set up a canteen at a major fire or disaster.
"When I first came to the chapter about three years ago, we had an old, broken-down Toyota van that didn't run," said Matt May, Red Cross disaster services chairman. "The last couple of years we've been on a mission to get a couple of vans."
Red Cross officials will use a $2,842 grant recently received from the Douglas County Community Foundation to equip a van with tables, chairs, a small generator, lights and other items needed to operate a canteen at the scene of a disaster.
The Red Cross uses canteens to provide water, coffee and other beverages, as well as food such as doughnuts to emergency responders and victims.
That equipment will be placed in a used GMC van the Red Cross board of directors recently purchased from Crown Chevrolet for $4,500.
The need for a van was readily apparent on May 8, 2003, when southwestern Lawrence was struck by a tornado, May said. Red Cross workers responded to the Aberdeen South apartment complex, 4700 W. 25th St., where several buildings were damaged. It took May three trips in his own Dodge Durango to transport all of the equipment and supplies to the scene where a canteen was set up to assist emergency responders and victims.
"It was time-consuming and tedious, and I didn't feel I could impose on other volunteers to use their vehicles," May said. "If this had been in Baldwin, it would have been a huge problem."
Some members of the Red Cross board of directors, including then-board president Brad Finkeldei, were at the tornado scene and saw the problem firsthand.
"Clearly, at the time of the tornado, as we responded, we recognized the need to have an equipped mobile unit that could be taken to a big fire or a tornado," said Finkeldei, a Lawrence attorney.
The van the board purchased will have containers and frames installed to hold the equipment. Some beverages, such as powdered Gatorade, also will be stored on the van. The Red Cross has arrangements with various local restaurants and businesses to obtain coffee and food items as necessary.
The Douglas County Community Foundation is a nonprofit corporation organized to promote and manage gifts from donors to assist local tax-exempt services within the county.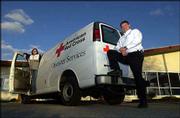 Copyright 2018 The Lawrence Journal-World. All rights reserved. This material may not be published, broadcast, rewritten or redistributed. We strive to uphold our values for every story published.