The concept of one-stop shopping has spawned a new Lawrence real estate agency that handles home loans and insurance services.
Lawrence-based Security Federal Mortgage Realty recently opened its doors in an office building on the southwest corner of Clinton Parkway and Wakarusa Drive.
The company had operated for four years as Security Federal Mortgage, but company president Joe Voth said he saw an opportunity to expand the business by tapping into a new trend in real estate. The trend is to offer real estate, mortgage and insurance services under one company.
Voth said it was the same concept that retailers, like Wal-Mart, had used in creating supercenters that sell a variety of merchandise.
"It is all about one-stop shopping," Voth said. "People are looking for anything that allows them to spend more of their free time doing what they want. Our free time has become a very precious commodity."
In January, Voth decided to move the company toward the one-stop concept. The company and three of its 12 employees received real estate and insurance licenses. Now company employees can show homes, approve mortgages and sell home insurance.
"You can come in and set at one desk and get the loan and the house and the insurance in one fell swoop," Voth said.
The concept has another advantage over the traditional real estate model, Voth said. Since the company has three ways to make money, it is willing to give discounts on real estate commissions to buyers and sellers.
Traditionally in Lawrence, real estate agents charge a 6 percent commission on each sale, and discounts can be difficult to negotiate.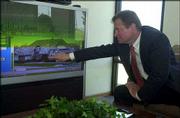 The one-stop concept has worked out well so far, Voth said. He said he was looking to fill five real estate agent positions and was strongly considering an expansion of the business into Nevada. The company already has branches in Wichita and Castle Rock, Colo.
Security Federal Mortgage Realty isn't the first Lawrence company to mix lending and real estate.
Last year, Coldwell Banker McGrew Real Estate partnered with the Lawrence office of Sterling Capital to create a new mortgage company, Midwest Sterling Mortgage, that is based in McGrew's office at 1501 Kasold Drive.
The one-stop shopping concept has hit the national real estate market as well.
According to a January article in Mortgage Banking, a trade magazine published by the Mortgage Bankers Assn., Countrywide Home Loans has 15 joint ventures with real estate companies across the country and another 35 in the works. Wells Fargo Home Mortgage, GMAC Mortgage and Bank of America also have deals with real estate companies.
Increasing consumer sentiment seems to be driving the partnerships.
According to a 2002 Harris Interactive poll, 82 percent of respondents said they would strongly consider a one-stop shopping service for their real estate needs. That's up significantly from 59 percent who were interested in the concept in a 1999 poll by the National Association of Realtors.
It is uncertain how prevalent the trend will become in Lawrence. Some real estate agents said the idea of adding a mortgage company wasn't overly appealing to them.
Jo Barnes, broker with Reece & Nichols Acres Realtors, said that other Reece & Nichols offices in the Kansas City area had added the mortgage component. She's not sure she will in Lawrence.
"The opportunity is definitely there for us to get into the mortgage market," Barnes said. "But we have a great lender community already in place, and the competition is strong, so I haven't invited them in."
Jim Maag, president of the Kansas Bankers Assn., said he thought some Lawrence banks would be interested in opening their own real estate businesses. But he said current Kansas law prohibited most banks from entering the market.
"That is a particular burr under our banking saddle right now," Maag said. "We think it is pretty discriminatory."
Maag said he doubted that all banks in the state would want to become involved in opening a real estate company, but the idea might be attractive in larger communities where more real estate is sold.
"It is obviously a convenience for the customer," Maag said. "That's the whole trend in the financial services industry."
Copyright 2018 The Lawrence Journal-World. All rights reserved. This material may not be published, broadcast, rewritten or redistributed. We strive to uphold our values for every story published.