It's not over until it's over. Unless you're not sure it's over.
Take, for example, Wednesday afternoon's Kansas University-Nebraska softball game at unilluminated Arrocha Ballpark.
With the sun descending and Nebraska leading 3-0 after the conclusion of the sixth inning, the game was called because of darkness. But was it an official game? Or will the game resume when KU goes to Nebraska April 28?
"We don't know," KU coach Tracy Bunge said. "Right now we're calling it a halted game, and we'll check with the Big 12 office tomorrow."
Wednesday's Big 12 Conference game began at 4:05 p.m. and was halted 2 hours and 42 minutes later. Normally, softball games last around two hours, but the six innings featured numerous long counts, countless foul balls and many base-runners. Nebraska stranded 10 runners; Kansas seven.
Nebraska finally broke a scoreless deadlock in the top of the sixth, thanks to a walk, a pair of errors by third baseman Sandy Smith and Nicole Trimboli's ringing two-run double to straightaway center field.
Kansas freshman pitcher Kassie Humphreys, who had one-hit the Cornhuskers earlier at the Jayhawk Classic, never retired the Huskers in order. She was constantly working her way out of jams because she walked five, gave four hits and plunked three batters.
"You can't give a good ball club that many freebies," Bunge said. "The impressive thing about Kassie was she gave up only two solid hits."
Humphreys had the same stuff she had in the first meeting against Nebraska, Bunge said, but had difficulty adusting to home plate umpire Phil Grom's strike zone.
"Location," Bunge said. "There was a difference in the umpires' strike zones in the two games. This one had a tighter zone."
Nebraska's Peaches James, one of the Big 12's leading pitchers, had some difficulty adjusting, too. James fanned 13 Jayhawks, but she also walked four and, like Humphreys, pitched out of a couple of jams.
Kansas had a runner on third with one out in the fourth and failed to score when Jessica Moppin whiffed a squeeze bunt. And the Jayhawks couldn't move Nicole Washburn after she doubled over the centerfielder's head to open the fifth.
"We've just go to be able to move runners," Bunge said, "and we didn't get it done."
The Jayhawks have now gone four straight games and six innings -- or five straight games depending on today's Big 12 ruling -- without scoring a run.
"We've talked about how we're close to breaking it open," said senior catcher Dani May, who had one of the three KU hits, an infield single, "but we didn't execute our bunting today."
Bunge said she planned plenty of bunting practice today prior to a scheduled doubleheader with Creighton. The first game will begin at 2 p.m.
Wednesday's game began in late afternoon, Bunge noted, because she wanted to allow more people to have an opportunity come to the Jayhawks' new ballpark after work.
"Normally, when we start a doubleheader at 2 p.m., the second game starts about 4:30 and we don't have any trouble getting it in," Bunge said.
If Wednesday's game is indeed over, Nebraska has a 23-11 overall record and a 3-0 league mark. Kansas would be 20-16 and 0-3.
Nebraska 3, Kansas 0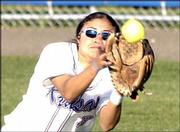 Nebraska 000 003 -- 3 4 1
Kansas 000 000 -- 0 3 2
(Suspended after six innings, darkness)
NU pitcher: Peaches James. KU pitcher: Kassie Humphries.
2B-Nicole Trimboli, NU; Nicole Washburn, KU.
Kansas highlights: Heather Stanley, Dani May 1Bs. Humphreys 6Ks.
Nebraska highlights: Trimboli 2 RBI, Anne Steffen 1B and RBI. James 13Ks.
Copyright 2018 The Lawrence Journal-World. All rights reserved. This material may not be published, broadcast, rewritten or redistributed. We strive to uphold our values for every story published.