It's official: This weekend, Lawrence liquor stores will be open Sunday.
The deadline to submit a protest petition that would have delayed Sunday liquor sales passed at 5 p.m. Wednesday. City Clerk Frank Reeb said one person inquired about the petition requirements -- nearly 1,000 signatures were required -- but no document materialized.
"Someone was in my office with some signatures, but she chose not to file them," Reeb said. "She knew she didn't have a satisfactory number ... technically a petition was never filed."
He declined to identify the petitioner.
Now, liquor store managers are trying to figure out what to expect this Sunday -- and Sundays beyond.
"Everybody who's come in has asked about it," said Mandy Isaacs, manager of Harper Corner Liquor Store, 2220 Harper St. "I think this Sunday will be really big, just because everybody's excited about it."
Later she said, "I think Sunday sales will be great during football season, at least. I expect we are going to make extra money, but I expect Saturdays will slow down a little bit, except on game days."
Certainly, customers are ready for the change.
"I'm going to buy it this Sunday if it's on sale," said Sherri Rohlf, a customer at Cork & Barrel. "I think Sunday sales are a good thing for the citizens."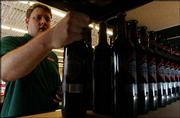 Jerry Bryant, shopping at The Wine Cellar, 2100 W. 25th St., agreed.
"I think Sunday sales are good, because you can already buy liquor and play pool on Sunday anyway at a tavern," he said. "This will keep the tax money in Lawrence."
Bars and restaurants that sell liquor by the drink will see new competition on a day that they have traditionally had all to themselves. But managers appeared unworried.
"I don't think it'll take away from our business at all because people want to come in and have that big-screen TV bar experience," said Brad Schoonover, manager of Buffalo Wild Wings, 1012 Mass.
Ian Sotomayor, a bartender at Free State Brewing Co., 636 Mass., which brews its own products, agreed.
"I think it might have some kind of reaction on our business but we kind of have our own Sunday crowd," he said. "The die-hard Budweiser drinker doesn't come here anyway."
But there are losers: Convenience and grocery stores that sell the weaker, 3.2 beers not sold in liquor stores. Under state law, the city can't allow those businesses to sell alcohol on Sunday.
John McKean, office manager for Chip's convenience store in North Lawrence, said his store might lose business as a result.
"I could see it happening," he said. "The neighborhood people will have to drive a little farther, but they won't be able to come here."
Liquor stores, meanwhile, have done little advertising and are still trying to figure out if they need to hire new people and buy additional stock.
"We kind of regret (losing) our day off, but we are going to try our best to get additional sales," said Scott Schmidtberger, manager of Alvin's Wine & Spirits.
The experiment may not last.
Atty. Gen. Phill Kline has appealed a Wyandotte County District Court ruling that local governments can allow Sunday sales. The case is before the Kansas Supreme Court, which could reverse the decision.
"That is a possibility," Assistant City Manager Dave Corliss said. "We are not a guarantor of the stability of the law."
Sales will be allowed between 11 a.m. and 7 p.m. Sundays.
---
Kansas University journalism student Kadi Kerr contributed to this report.
Copyright 2018 The Lawrence Journal-World. All rights reserved. This material may not be published, broadcast, rewritten or redistributed. We strive to uphold our values for every story published.