Abu Ghraib, Iraq — Six people claiming to be Americans and two who say they are British are in U.S. custody on suspicion of involvement in attacks on coalition forces, an American general said Tuesday. They would be the first Westerners reported held in the insurrection against the U.S.-led occupation.
Brig. Gen. Janis Karpinski, who is in charge of coalition detention centers in Iraq, said they were considered security detainees, meaning they were suspected of involvement in guerrilla attacks. She did not identify them but said they were being interrogated by military intelligence in Baghdad, where they were being held.
"We actually do have six who are claiming to be Americans, two who are claiming to be from the U.K. We're continuing the interviewing process. The details become sketchy and their story changes," Karpinski said.
She said there were "several ... hundred third-country nationals in custody."
Pressed for details about those being held, she declined to give any other information.
"We're not trying to withhold information from you. Some information remains classified for security reasons," Karpinski said during a tour of Abu Ghraib prison, where Saddam Hussein locked up his political opponents.
Skilled at confusing
Asked about the detainees at a Pentagon news conference, Defense Secretary Donald Rumsfeld said: "The truth is that the folks that we've scooped up have, on a number of occasions, multiple identifications from different countries. They're quite skilled at confusing people as to what their real nationality is or where they came from or what they're doing."
Rumsfeld said he had no additional information on the detainees.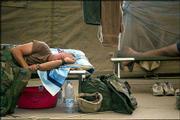 The British government said it was investigating the claims.
"We are urgently following up the reports," a Foreign Office spokeswoman said on condition of anonymity. She would not confirm whether the United States had informed British officials of the arrests.
If Westerners are actively involved in the resistance, it would deepen confusion about what groups are involved. Initially, the guerrilla fighters were thought to be Saddam loyalists, but in recent weeks U.S. officials have said they were being joined by foreign fighters, possibly members of the al-Qaida terror network.
Visions of American Taliban
The revelation recalls the capture of John Walker Lindh in Afghanistan, where the American fought alongside Taliban and al-Qaida fighters following the Sept. 11, 2001 attacks.
Lindh was sentenced last year to 20 years in prison after pleading guilty to supplying services to the Taliban militia, which ruled Afghanistan and was ousted by a U.S.-led coalition.
In December 2001, British citizen Richard Reid, a member of al-Qaida, was arrested after trying to light explosives hidden in his shoes on a Paris-to-Miami flight. Reid pleaded guilty and was sentenced to life in prison.
American troops in Afghanistan also captured Yaser Esam Hamdi, who was flown to the U.S. Navy base at Guantanamo Bay, Cuba, and held there for several months until it was discovered he was born in Baton Rouge, La. He was held in the naval brig in Norfolk, Va., then transferred in late July to a jail at the Charleston Naval Weapons Station in South Carolina.
At least nine Britons are being detained in Guantanamo, where some 660 men from 42 countries are being held on suspicion of links to the Taliban or al-Qaida. None of the men has been charged and some have been held for nearly two years without access to lawyers.
Lt. Col. Pamela Hart, a spokeswoman for the mission in Guantanamo, said Tuesday that none of the detainees being held there were captured in Iraq.
Meanwhile, U.S. troops of the 4th Infantry Division killed two Iraqis and wounded two others in a gunbattle late Monday outside an ammunition dump in Tikrit. Another man was captured and two others fled after the apparent attempt to loot the depot, division spokeswoman Maj. Josslyn Aberle said.
Copyright 2018 The Associated Press. All rights reserved. This material may not be published, broadcast, rewritten or redistributed. We strive to uphold our values for every story published.