Manhattan — Quarterback Ell Roberson could miss his second straight start because of an injured left wrist when No. 6 Kansas State plays host Saturday to Marshall.
Coach Bill Snyder said Tuesday he had not ruled out starting Roberson, who injured his nonthrowing wrist against McNeese State Sept. 6 -- after throwing for five touchdowns and running for four more in just over two games.
"He's uncertain, if that's the right category," Snyder said. "He's on the practice field, yes, but he's not doing much of anything."
If Roberson is unavailable, former walk-on Jeff Schwinn, a McLouth native, will start for the second straight week.
In his first start, Schwinn was 17-of-26 for 228 yards and one touchdown -- but also threw two early interceptions -- in a 38-7 win over Massachusetts.
"I always tried to say that I wasn't going to be nervous, but I really was once I stepped out there," Schwinn said. "It took probably that full first quarter before I could get a groove, but now that we've got that one under our belt, I think it's going to go a lot more smoothly."
Marshall already has announced its backup quarterback, Graham Gochneaur, would make his second straight start in place of Stan Hill. Hill has not played since he sprained his left knee in the Thundering Herd's 10-point loss to Tennessee Sept. 6.
Gochneaur completed 31 of 39 passes for 289 yards with two interceptions in a 24-17 home loss to Toledo.
Roberson was not available during the Wildcats' weekly media session, and Snyder did not say when he will name a starter.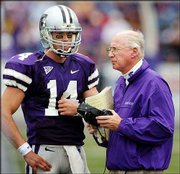 "The doctors are not going to say, 'OK he's 40 percent, 50 percent, 60 percent," Snyder said. "They're going to say, 'Listen, he can do this and we recommend that there's no problem.' We have very good doctors."
Schwinn said he wasn't bothered by the uncertainty.
"It makes me think more, and I think it's good for me," Schwinn said. "I'm going to prepare myself like I'm the No. 1 quarterback, which I always try to do."
Snyder also said Tuesday that junior Cedrick Williams will start Saturday at cornerback in place of Louis Lavender.
Lavender, who replaced departed All-American Terence Newman, was benched for Williams after being burned badly on Jeff Krohn's 65-yard touchdown pass Saturday to Jason Peebler.
"I don't want Louis to feel that he's never going to see the field again," Snyder said. "It is just the way that it happened, how it happened and why it happened which is really unacceptable. When Cedrick went into the ballgame, he really played well, so there was really no reason to remove him."
Lavender acknowledged his mistake -- biting hard on a run fake as Peebler ran right past him.
"It was just a mental error," he said. "I don't think he beat me athletically."
Copyright 2018 The Associated Press. All rights reserved. This material may not be published, broadcast, rewritten or redistributed. We strive to uphold our values for every story published.