John Kepple of Lawrence is a National Merit semifinalist after finishing just two classes in a traditional school -- driver's education and calculus.
Kepple, among 15 students from the Lawrence area officially advancing today to the semifinalist level, said being home-schooled by his parents in California and Kansas was an advantage while preparing for the scholarship program's qualifying examination.
"It's a good way to go if you can do it," said Kepple, who wants to study civil engineering at the U.S. Air Force Academy. "It's one-on-one attention ... and motivation we receive from our parents is important."
His driver's ed course was taken when he was 14 years old, and the math class was taken more recently at Kansas University.
This is the only time in at least five years that home-schooled students in Lawrence -- Lauren Kimball-Brown joins Kepple in this year's crop -- have been named semifinalists.
Mirroring the recent past, Free State High School had more semifinalists than Lawrence High School.
Nationally, 1.3 million students entered the 2004 National Merit competition. About 16,000 students were selected as semifinalists based on their standardized test scores. Approximately 15,000 will advance to the finalist level, with about 8,000 earning Merit scholarships worth a total of $32 million.
Lawrence area students named semifinalists by the National Merit Scholarship Corp., Evanston, Ill.:
Free State High School (10) -- Christopher Brewer, Claire Bunch, Evan Ferrier, Bryan Maygers, Abraham Miller, Caleb Powers, Charles Pye, Alan Sheu, Ivan Sheu, Audrey Southard.
Lawrence High School (2) -- James Huston and Ying Niu.
Home school (2) -- Kimball-Brown and Kepple.
McLouth High School (1) -- Lisa Smelser.
In last year's competition, Free State had nine semifinalists while LHS and Baldwin High School had one each. Bishop Seabury Academy, a private Episcopal school in Lawrence, had two semifinalists.
Linda Allen, a counselor at LHS, said there was no clear-cut explanation why Free State had considerably more National Merit semifinalists than LHS.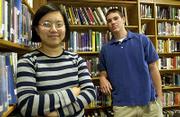 The qualifying exam is taken by students at the beginning of their junior year. At that point, they only have one year of high school under their belt.
"As far as high school involvement in shaping these kids, it's probably been pretty minimal," she said. "What it shows is that these are kids who have really learned the stuff this test covers."
In each of the past four years, Free State has had a minimum of nine and maximum of 11 semifinalists; LHS has ranged from one to eight during that time.
Students entering the scholarship contest took the Preliminary SAT/National Merit Scholarship Qualifying Test in 2002. Selection of the scholarship finalists and winners will be based on academic performance, recommendations from principals, SAT scores, extracurricular activities and an essay.
Scholarships are underwritten by businesses, universities and the Merit Scholarship Corp. Winners will be announced beginning in April and concluding in July.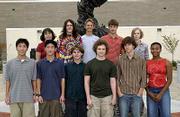 Copyright 2018 The Lawrence Journal-World. All rights reserved. This material may not be published, broadcast, rewritten or redistributed. We strive to uphold our values for every story published.