Seabury Academy's boys soccer team can stomach losing to a better team.
Tuesday, the Seahawks lost, 3-0, to Olathe Christian because of a lack of concentration.
"What it really boils down to are mental mistakes. It comes down to momentary lapses," Seabury coach Shawn Sherlock said after his squad's first regular-season game at the Youth Sports Inc. fields. "When we were into the game and everybody was doing what they were supposed to, they weren't scoring goals. But we're daydreaming for a second, and in that one second is when they capitalize."
Olathe Christian (3-2) scored in the 20th minute when Ben Smith rattled the ball past Seahawks' sophomore goalkeeper Paul Bireta from just outside the goal crease.
The score didn't change until Olathe Christian pressure led to a header for a goal by Micah Bourdess with five minutes left. The Warriors capped the contest in the final minute with a goal by Ben West.
Seabury (0-1) surrendered three goals, but it could have been a lot worse if not for Bireta. Smith had six shots in the second half, but couldn't get past the Seahawk keeper.
"He's one of our premier goal scorers, but the goalie did a nice job," Warriors coach Mike Montgomery said.
The Seahawks had chances to score, most coming from the up-tempo play of junior forward Allan Park and freshman forward Eric Bittlingmayer. Both players led a couple of offensive charges, but nothing materialized. Seabury's best opportunity came with ten minutes to play in the second half, when Park's shot sailed over the crossbar.
"We let up way too many times this game," Seahawk junior defenseman Jake Esau said. "One of our main goals is to get the ball up to Allan, because he's got the speed to get past people, but we weren't able to."
Seabury will play host Thursday to Flint Hills Christian.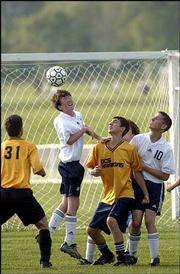 Copyright 2018 The Lawrence Journal-World. All rights reserved. This material may not be published, broadcast, rewritten or redistributed. We strive to uphold our values for every story published.