Cleveland — Angel Berroa is just a rookie, but he's got manager Tony Pena's vote for MVP of the Kansas City Royals.
Berroa went 5-for-5 with three runs scored and Joe Randa had four RBIs, including a three-run homer, as the Royals beat the Cleveland Indians, 12-8, Tuesday night.
The win kept Kansas City 31/2 games behind the first-place Minnesota Twins, who beat Chicago, 5-2. The Royals pulled within two games of the White Sox.
Berroa is hitting .632 (12-for-19) with nine runs and four RBIs since being moved to the leadoff spot for the last four games, all victories.
"My team wins, that makes me excited," Berroa said. "No matter what spot I'm at, I'll be hitting."
Berroa's five hits Tuesday, including an RBI triple, were a career high. He also scored three runs, stole two bases and had two errors after committing just three in his last 82 games. The errors were costly, however, leading to five unearned runs.
"This kid is amazing. This kid just has a great attitude," Pena said. "He made a couple of errors tonight and that didn't even bother him. He just keeps going.
"This is why Angel Berroa is so important to our ballclub. This is why I keep saying Angel Berroa is our MVP."
The Royals powered their way through a sloppy game in which the teams combined for 25 hits and six errors.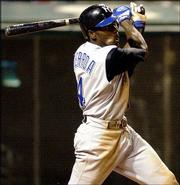 "I think anytime you string together wins it builds up your confidence," left-hander Darrell May said. "We're playing pretty well. We were a little lackadaisical with our defense tonight, but other than that we're hitting the heck out of the ball."
Randa hit a line drive that clanked off the railing of the 19-foot wall in left to start a four-run first inning. Kansas City added two in the second for a 6-0 lead.
The Indians made it 6-4 in the bottom half, but the Royals took advantage of two Indians errors in the fourth to make it 11-4. Rondell White capped the inning with a towering 410-foot, three-run homer to left.
It was the Indians' fourth straight loss to a Central Division contender.
Darrell May (9-7) had a season-high eight strikeouts over 52/3 innings. He allowed seven runs -- only one earned -- on seven hits and two walks.
The Indians chased May in the sixth after Victor Martinez singled, Ben Broussard reached on Berroa's fielding error and Josh Bard hit an RBI single.
Reliever Jason Grimsley gave up an RBI single to Brandon Phillips and a two-run double to Coco Crisp, allowing the Indians to pull within 12-8.
But Al Levine and Curtis Leskanic combined for three scoreless innings of relief.
Rookie Billy Traber (6-9) didn't make it out of the second inning for his shortest start of the season. The left-hander allowed six runs on seven hits and a walk over 12/3 innings.
"He didn't have it tonight," Indians manager Eric Wedge said. "He wasn't able to command his fastball. He was working behind and he was up and over the middle of the plate."
Alex Escobar led off the fourth with a his fourth home run. Crisp ended the inning when he blooped a two-run double to the corner in right, but was thrown out trying to stretch it to a triple.
Randa added an RBI single in the fourth. Raul Ibanez had three singles and two RBIs.
Notes: Randa has nine RBIs over the last two games. His 16 homers tied a career high. ... Traber has not won since Aug. 7. ... Crisp's four RBIs were a career high. ... Randa had the Royals' last five-hit game May 12, 2001. ... Cleveland's four errors tied a season high. ... Bard was 3-for-3 with a walk. ... Kansas City is 12-5 against Cleveland this season and 7-1 at Jacobs Field.
Copyright 2018 The Associated Press. All rights reserved. This material may not be published, broadcast, rewritten or redistributed. We strive to uphold our values for every story published.