Kansas City, Mo — Priest Holmes ended any doubts about his recovery from an injured hip.
The Kansas City running back is just fine, thank you.
Showing no ill effects from offseason hip surgery, Holmes rushed for two touchdowns and had 183 yards total offense Sunday to lead the Chiefs past the Chargers, 27-14.
"Priest got us," San Diego linebacker Ben Leber said. "We did a poor job of tackling him. But he had a lot to do with that."
Holmes had TD runs of five and 24 yards and 159 total yards in the first half alone as the Chiefs built a 24-0 lead against their AFC West rivals.
"Nothing Priest does surprises me," Chiefs guard Brian Waters said. "I heard the rumors last winter like everybody else that Priest might be done for. But when I talked to the man himself and he told me he was going to be OK, I believed him. Now I bet everybody else will believe him, too."
Holmes, who has led the NFL in yards from scrimmage each of the past two years, seemed confident from the beginning, showing his full repertoire of moves. He was the offensive player of the year for 2002 despite missing the final two games because of the hip injury.
Holmes refused to speak with reporters, but everybody else was talking about him.
"If there's any questions about Priest Holmes' hip, then I think that has been dispelled," San Diego coach Marty Schottenheimer said.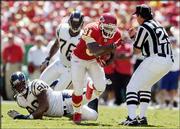 In another encouraging sign for the Chiefs, newcomer Vonnie Holliday sacked Drew Brees three times in the first half, supplying the outside pass rush Kansas City so sorely lacked while finishing last in total defense in 2002.
"Their front four put a lot of pressure and made me move around a lot and throw on the run," Brees said.
Holmes, who agreed to a lucrative four-year contract extension Wednesday, took a swing pass from Trent Green on the Chiefs' first drive of the second quarter and sped 31 yards to the 20.
Green, picking on the Chargers' revamped and inexperienced secondary, found Johnnie Morton all by himself in the end zone on the next play for a 21-0 lead. Green finished 21-of-32 for 282 yards and one TD.
The Chargers' defense often looked as if it missed 12-time Pro Bowl linebacker Junior Seau, who was traded to Miami for a conditional draft pick.
The Chiefs went 68 yards on six plays in their opening possession, capped by Holmes' 24-yard scoring run around left end.
In a 59-yard touchdown drive a few minutes later, Holmes went 14 yards on second-and-10, juking linebacker Zeke Moreno. On first and goal from the 5, Holmes took a wide pitch and outran Moreno to the corner of the end zone.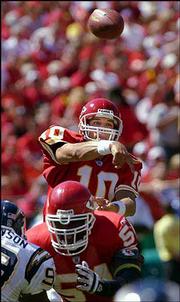 Holmes carried 18 times for 85 yards and caught seven passes for 98 yards.
The Chiefs' rebuilt defense, with five new starters, was dominant in the first three quarters. LaDainian Tomlinson, who had 131 yards rushing in Kansas City last year, had only 34 yards on 13 carries. On a key fourth-and-1 deep in Chiefs territory in the second half, he was thrown back by Eric Hicks and Greg Wesley.
Wide receiver David Boston, the Chargers' biggest offseason acquisition, had only two catches for 20 yards.
"As soon as I got here, I could tell there were a lot of good defensive players," said Holliday, signed as a free agent from Green Bay. "I suppose a lot of people were probably surprised by how well this defense played today."
Brees finally got the offense moving midway through the third quarter, hitting Josh Norman with a 21-yard TD pass to make it 24-7. With about 4 1/2 minutes left in the game, Eric Parker made a great leaping catch of Brees' 20-yard toss into the end zone.
But the Chargers' momentum was halted with 1:56 left when Shaunard Harts intercepted Brees' pass on the San Diego 39.
Morten Andersen, 43, had a 42-yard field goal near the end of the half and a 46-yarder to put the Chiefs on top 27-7 toward the end of the third. Notes: Morton's 10-yard catch from Green in the third quarter was his 500th career reception. ... Chargers CB Tay Cody hurt his left hamstring early in the fourth quarter and did not return. He is listed as day-to-day. ... The 13-point spread was more than twice the combined margins of victory in the last three previous games. Those games were decided by a total of six points -- wins of 20-17 and 24-22 by the Chiefs at Arrowhead, and San Diego's 35-34 home victory last year.
Copyright 2018 The Associated Press. All rights reserved. This material may not be published, broadcast, rewritten or redistributed. We strive to uphold our values for every story published.