For several years Joe Mehl has spearheaded annual efforts by local firefighters to raise money for the war on muscular dystrophy.
About two years ago Mehl, a lieutenant with Lawrence-Douglas County Fire & Medical, learned that his son, Lucas, now 10, had muscular dystrophy.
"It was kind of ironic," Mehl said during a recent interview. "It was also devastating, but that's the way life is."
Mehl, as were others with Fire & Medical, were out a week ago collecting donations from the public outside various businesses around town. Mehl also has been a counselor at Camp Chihowa in Jefferson County, a camp for children with muscular dystrophy.
Although he wasn't a counselor this year, four other local firefighters, following in Mehl's footsteps, were.
Mehl's fellow firefighters are now planning a benefit for Mehl's family to help them cope with Lucas' disabilities. Mehl will have extra expenses as he renovates his house to make rooms more accessible.
"Joe is a very humble guy and very well liked by people who know him," said Karen Glotzbach, a firefighter who works with Mehl at Station No. 2, 2128 Harper St. "He's worked tirelessly for the MD Association."
Firefighter Mark Thomas agreed. Thomas and others are organizing a barbecue cook-off next month to include cooking teams from area fire departments. The public will be invited to sample the cooking and make donations.
In addition, fire departments also will contribute teams to compete in a firefighter muster. A muster includes a series of competitions that could include timed events such as running up several flights of stairs in the training tower in full gear and moving a steel ball suspended on a cable with a stream of water.
The event will be Oct. 4 at the Fire Training and Maintenance Center, 1941 Haskell Ave.
"Joe is always doing things for other people and we wanted to help him," Thomas said. "He's what I call 'good ground.'"
Mehl said he never expected the outpouring of support from the other firefighters.
"I'm very appreciative," he said. "Firefighters have always been like one big family."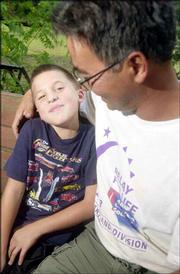 Copyright 2018 The Lawrence Journal-World. All rights reserved. This material may not be published, broadcast, rewritten or redistributed. We strive to uphold our values for every story published.