Manhattan — Last week against Colorado, Kansas State's football team bounced back from a three-game losing streak for a 49-20 victory.
Early in the first quarter of K-State's 42-6 victory Saturday over Kansas University at KSU Stadium, the Wildcats' offense looked like it had lost any momentum it had regained a week before.
K-State went three-and-out on its first drive, fumbled on its second and punted again after gaining just 17 yards on its third possession.
"I think we came out at first offensively and weren't really clicking," KSU center Nick Leckey said. "I think it just took us a while to get everything together, and also to get the plays going that we wanted to. We had plays called and just needed to execute."
Wildcat cornerback Randy Jordan executed on KU's next drive, picking off a pass by Bill Whittemore and returning it to midfield.
"It was a great play," KSU coach Bill Snyder said of Jordan's interception. "What I liked is that we've been a little tentative in attacking thrown balls. He did exactly that, and it paid off for him. It was certainly a step forward for him."
The Wildcats' offense took a step forward on the ensuing drive. A personal foul against the Jayhawks during Jordan's return gave K-State first down at KU's 32-yard line, and Ell Roberson scored seven plays later on a one-yard run.
KU's defense shut down the Wildcats on their next possession, but one play after a fumbled hand-off on Jayhawk quarterback Brian Luke's only play of the game, Roberson found Davin Dennis in the end zone for a 20-yard touchdown and a 14-3 lead.
"He just ran a good fade, and I just laid it up there in the end zone," Roberson said. "He just made a great catch."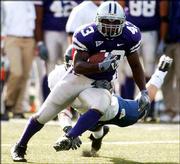 After a KU punt, the Wildcats took over at their own 29 and moved 71 yards in 11 plays, finishing the scoring drive with a seven-yard run by Darren Sproles.
Sproles added to the blowout less than two minutes later with a 63-yard punt return for a touchdown, the first of his career.
KSU's offense came out strong after halftime, gaining 227 yards in the third and fourth quarters.
Sproles finished with 98 yards on 19 carries. He now has 2,619 career rushing yards, moving ahead of Eric Hickson for first place on KSU's career rushing list.
"Sproles is a great back," KU linebacker Gabe Toomey said. "He's quick as hell. He'll make you miss. He can make the first, second and third guys miss."
Kansas State's defense rarely missed, giving up just 160 yards to KU and holding the Jayhawks to just 3.3 yards per play. While part of KU's anemic offense could be attributed Whittemore's first-quarter injury and subsequent departure, the Wildcat defense practically shut down the Jayhawks.
"They played well, very consistent," Snyder said of his defense, "and got better in some of the things we might have had a few questions about."
Kansas State could be peaking at the right time, with games against Baylor and Iowa State the next two weeks before finishing the season on the road against Nebraska and at home against Missouri.
"I think we're playing some good ball right now," Roberson said. "Sproles is running the ball really well right now. Our receivers are making some good catches down the stretch for us. If we continue to do that, we'll be good."
Copyright 2018 The Lawrence Journal-World. All rights reserved. This material may not be published, broadcast, rewritten or redistributed. We strive to uphold our values for every story published.