Strafford, Mo. — The Hummer H2 -- the hulking, luxurious version of the military's workhorse Humvee -- is enough to garner long, lusty stares on its own.
But stretch the sport utility vehicle some 16 feet and add hardwood floors, flatscreen televisions, video game systems, fiberoptic lighting, mirrored ceiling and leather seating for 18 people -- and jaws drop.
"It's a party on wheels, and you are going to get noticed," said Linda Moore, publisher of Limousine Digest. "Right now, it is what's hot."
S and R Coach in Strafford, Mo., and Craftsmen Limousine in Ozark, Mo., are among nine custom coach builders across the country that stretch the H2. The others are in New York, Florida and California.
It is not unusual that limousines would be rolling along the tree-lined highways in southwest Missouri. With seven car-stretching companies in the area, Springfield, Mo., is considered the limousine capital of the world, said Moore, whose trade magazine is based in Medford, N.J.
S and R and Craftsmen stretch vehicles to an individual's specifications, while the others typically build standard-size limos as specified by the automakers.
"We stretch Cadillac Escalades and Ford Excursions, but the Hummer is the most popular simply because it's a Hummer," said Adin Baban, who along with his father and father-in-law, bought S and R Coach in July.
In demand
The Hummer H2 quickly became the top-selling luxury SUV after General Motors launched it in summer 2002. It wasn't long after that limousine rental companies started asking for them to be stretched.
Marc Haswell, co-owner of Craftsmen, said he took his first order July 29, 2002. The vehicle was finished two months later.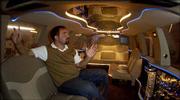 "We've since done 38 of them," Haswell said.
Baban's company got its first order shortly after taking over ownership of S and R. His crew of 19 full-time workers can create a custom H2 in about seven weeks. They had three Hummers in various stages of being stretched the week of Oct. 13.
"We can't build them fast enough," Baban said. "If you were to place an order now, it would be the end of January before I could get it to you."
It is difficult to determine how many Hummer H2s have been morphed into limos because all of the work is done by custom builders -- but Moore believes they are among the most sought after limos.
"You're not going to see celebrities buying these, but they do rent them," Moore said.
How it's done
To stretch the Hummer, work crews first tear down the vehicle -- removing everything from the steering wheel and seats to carpeting and doors. Crews then cut the car in two between the front and rear seats. They add up to 200 inches to the chassis and splice the vehicle back together. They rebuild the floor and exterior. They beef up the brakes, install new tires, add a second battery and reconstruct the wiring.
Then comes the custom features.
"We can do just about anything -- with in reason," Baban said.
There are 12-inch flatscreen televisions, simulated fireplaces, fax machines, video games, wooden bars and crystal bar glasses.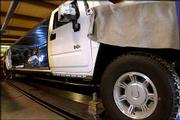 Lights that twinkle. Lights that change from green to orange to pink.
"In this game, he who has the neatest lights wins," Haswell said.
Crews at both companies have specialists in lighting, wood working and upholstery. There also are electricians, welders, painters and mechanics.
"Everything -- from the seats to the lights -- is custom made," Baban said.
There is no "average" price for a Hummer limo -- although many range between $95,000 and $125,000, Baban said.
Baban and Haswell have stretched vehicles for celebrities, but both said nearly all of the H2s they build are for limousine rental companies.
Most stretched H2s also go to the East Coast and Las Vegas -- where they are popular with athletes and entertainers -- although they have built some for limo rental companies in the St. Louis and Kansas City areas.
'Impressive' looks
The vehicles are highly sought after for weddings, bachelor parties and proms.
"They've got everything you could want to make that night out over the top," Moore said. "It's the party."
Because most are built to seat 18 people -- they become a safe way for large groups to drink alcohol and not have to worry about a designated driver.
"They generate a lot of money for us," said Leon DeMond, owner of Kelly's Limousine in Belleville, Ill.
DeMond bought his first Hummer limo (an H1) in January 2000. Being across the river from St. Louis -- it was an immediate hit with professional football, baseball and hockey players living and visiting the area, he said.
It was so popular that he bought an H2 earlier this year from Baban. Besides the name -- "Hummer" -- customers like the looks of them.
"They're impressive," DeMond said.
The manufacturer's warranty is voided once the vehicle is cut for custom work. So Baban and Haswell offer their own guarantee that the body won't sag, bend or break as long as it remains the property of the original owner.
They also follow National Highway Traffic Safety Administration guidelines to ensure vehicle safety.
"In most cases, these cars are driven by professionals," Baban said. "They're also a big investment, so they're not going to be driving fast or taking them off road."
The Hummer is expected to be the darling at Limo Digest's annual trade show Nov. 9-12 at Trump Taj Mahal in Atlantic City, NJ.
As for what will be the next "it" limo, Haswell said: "Who knows. It ain't out there yet."
Copyright 2018 The Associated Press. All rights reserved. This material may not be published, broadcast, rewritten or redistributed. We strive to uphold our values for every story published.