Baldwin — Baker University football coach John Frangoulis knew it would take all-around efficiency for his Wildcats to beat Culver-Stockton, and that's exactly what happened Saturday night at Liston Stadium.
Running back Jon Reeves rushed for 179 yards.
Quarterback Blake Pearson hooked up with Calvin Alford for a long touchdown pass.
Baker's special teams forced two fumbles in the first half.
The defense added three sacks and a touchdown.
It all added up to a 28-19 Baker victory.
"We knew we had to play very well in all areas to beat this football team because they've got a good one," Frangoulis said. "This gives us back-to-back wins, and we feel great about it."
Baker (3-3) received an early boost from its special teams. After going three-and-out on its first possession, Culver-Stockton's punt returners collided, causing a fumble. Tyler Hibler recovered for Baker, setting up Gerrad Speer's one-yard scoring dive.
Culver-Stockton (3-4) needed a three-play, 64-yard drive to answer one minute later, but Baker kept a 7-6 lead when Julian Parks blocked the extra point.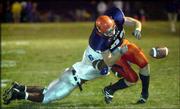 The Wildcats took a 14-6 lead late in the first quarter when Pearson connected with Alford on a 45-yard touchdown bomb. Jason Martinez' sack and another forced fumble by the special teams pinned Culver-Stockton deep in its own territory and prevented any scoring the rest of the first half.
A Baker fumble at its own three-yard line four minutes into the third quarter led to a quick Culver-Stockton touchdown. The Wildcats answered even quicker, as Reeves broke a 65-yard touchdown run on the second play from scrimmage.
Copyright 2018 The Lawrence Journal-World. All rights reserved. This material may not be published, broadcast, rewritten or redistributed. We strive to uphold our values for every story published.