Regional champion has a nice ring, doesn't it?
Sydney Wilson, Lawrence High's standout girls golfer, now can attach that title to her name for the next year or so.
Wilson, just a sophomore, earned the honor by firing an 18-hole total of 80 at the Kansas Class 6-5A regional golf meet Tuesday at Eagle Bend Golf Course. Her score was one stroke better than Overland Park Aquinas' Annie Giangrosso, last year's state runner-up.
No doubt about it, Wilson's rolling at the right time. She placed second at the Sunflower League meet last week and Tuesday shot perhaps her best 18-hole round of the year, with the state meet -- which she easily qualified for -- right around the corner.
"For a sophomore in high school, and with what she's balanced the last couple of weeks with volleyball and golf," LHS coach Mike Lewis said, "she has a lot to be proud of."
Wilson fired a 41 on the front nine of Eagle Bend -- a score she wasn't thrilled with -- but came back with a 39 on the back nine to take the individual title.
Wilson's day, however, wasn't enough to carry the Lions to a top-two finish and a team berth at state. LHS finished with 411 strokes, just seven back of second-place Shawnee Mission Northwest. Aquinas won the meet with a 360.
Besides Wilson and a handful of others, scores were unusually high across the board, and though the skies were sunny most of Tuesday, it wasn't a perfect day for golf.
"In the morning, the temperatures were cool, and it's tougher to swing the club when it's cool," Wilson said. "The wind played a huge factor, too."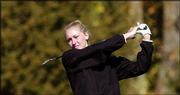 Regardless, where most golfers yielded to the conditions, Wilson shined. She now advances to her second straight state golf meet, which will be Monday at Auburn Hills in Wichita.
"I hit the ball well off and on," Wilson said. "I don't think I hit it consistently. But my short game seemed to save me."
It was the last meet for LHS seniors Diane Riat, Kelly Jacob and Susan Lawhorn. Jacob's score was the only score of the seniors' that counted, shooting a 110. Sophomore Jamie Shmalberg also shot a 110, and junior Whitney Juneau fired a 111.
Lawhorn shot a 114, and Riat shot a 119.
"It's disappointing," Lewis said of falling short of a team berth. "You always look back and think of shots that could've fallen, but really, it's all in the past now. You have to take the good strokes with the bad strokes, and you add them all up and live with it."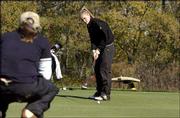 Copyright 2018 The Lawrence Journal-World. All rights reserved. This material may not be published, broadcast, rewritten or redistributed. We strive to uphold our values for every story published.