Juneau, Alaska — Volunteer bush pilots are flying winter supplies to a family whose cabin in the backcountry of Wrangell-Saint Elias National Park and Preserve has been isolated by a dispute over use of an old road through the park.
The cabin owner, who legally changed his name from Bobby Hale to Papa Pilgrim, lives with his wife and 15 children deep within the park. He wants the right to drive a bulldozer over an old 14-mile mining road. The National Park Service so far has refused a permit.
Friends and a property-rights group called the American Land Rights Assn. are collecting donations and asking pilots to ferry in supplies for the winter.
"It's just beautiful," Pilgrim said by telephone from his cabin. "I cannot tell you the unity. They just poured out their hearts."
The dispute arose after Pilgrim drove his bulldozer over the road earlier this year, sometimes with the blade up and sometimes down, carving a way through the overgrowth.
The Park Service sued Pilgrim and closed the road to motorized vehicles, leaving the Pilgrims with the prospect of either traveling by horse through the upper valley of McCarthy Creek or bringing in supplies by plane. It also left them unable to ship up large or bulky quantities of supplies.
Pilgrim has tried since June 17 to get permission to use the road, said his attorney J.P. Tangen. A formal request was made in September, he said.
Part of the problem is the Park Service has to perform an environmental assessment of the route and any damage that could be done by the bulldozer. Park Supt. Gary Candelaria said each journey required about 13 stream crossings, and park officials had to determine potential damage to spawning fish and unfrozen ground.
The family could use snowmobiles in the winter, Candelaria said.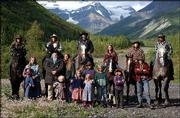 As for the family's predicament, it isn't considered an emergency under federal regulations, Candelaria said.
"There's a lot of personal choice, personal responsibility involved in this issue," Candelaria said.
But local residents who support Pilgrim say the road through the national park is state property and should not be closed.
"The main thing we need is to be able to get past this illegal road closure by having pilots to come out," said Laurie Rowland, who lives near the Pilgrims. "This is the bush pilot's chance to be a hero and be an angel of mercy."
Copyright 2018 The Associated Press. All rights reserved. This material may not be published, broadcast, rewritten or redistributed. We strive to uphold our values for every story published.