Remember the dishes from your grandmother's house?
She probably had a dish decorated with cattails, a Mexican scene or autumn leaves. These were among the most popular patterns of the 1930s. They were inexpensive, everyday dishes sold by Sears, Roebuck & Co. or Montgomery Ward, or they were given as premiums at grocery stores or movie theaters. Buy enough groceries and you got a free plate. Extra pieces like platters and tureens could be purchased for just a few dollars.
One of the most popular patterns was Cattail, which was sold by Sears from 1934 to 1956. The simple white dishes have a red-and-black cattail design in the center. The dinnerware was made by Universal Potteries of Cambridge, Ohio. Matching tinware, kitchenware, glassware, even furniture and table linens were made by others. Collectors are now assembling sets of the old dishes at moderate prices. A cup and saucer costs about $9, a dinner plate $4.50 to $7.50.
Look for them at garage sales and flea markets.
My grandmother left me a dining-room table and six chairs. There is only one armchair. I'd like to find another armchair to complete the set.
Your set is complete as it is. It probably dates from the 1920s or '30s, when typical dining-room sets included only one armchair (called a "host chair"). Dining-room sets were first made in the mid-1800s. Between then and the 1920s, and again after World War II, most sets included two armchairs. But during the 1920s and '30s, apartment living led to the manufacture of sets that took up less space.
I bought a silver-plated bowl at a garage sale. The mark on the bottom is the word "Gorham" above an anchor in a shield. Under that is the word "Electroplate" and the number 087. Can you give me any information on maker and age?
The Gorham Corp. of Providence, R.I., traces its roots back to 1831. The company didn't start making silver-plated wares until 1865, about 20 years after electroplating was developed in this country. Electroplating is the process of coating a base metal with silver using an electric current. Gorham marked its silver-plated wares with the anchor and shield and a pattern number that started with a zero (sterling patterns started with the letter A). Few, if any, electroplated pieces made before 1900 were marked with the word "Electroplate." Your bowl was probably manufactured during the 20th century.
In the early 1940s, my parents often took me to a Mexican restaurant in Tucson, Ariz. I was 7 or 8 years old, and every time we went I bought a Walt Disney ceramic figurine at the restaurant's gift shop. The figurines are well-made and are still in mint condition. My collection includes mostly characters from "Bambi," including Bambi with a butterfly on his tail, Feline, Thumper, Thumper's girlfriend and Flower the skunk. None of these figurines is marked. Can you help identify the maker?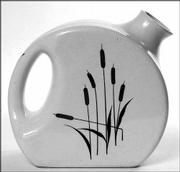 The age and description of your figures -- and the fact that they are not marked -- leads us to think they were made by the American Pottery Co. of Los Angeles. Ceramic figurines of Disney animated characters were first made by Vernon Kilns of Vernon, Calif., in 1940. Most of those were characters from "Fantasia," although five were from "Dumbo," a 1941 release. In 1942, the high cost of producing the figurines led Vernon Kilns to assign its contract with Disney to the American Pottery Co., owned by Evan K. Shaw. Shaw continued to manufacture the Vernon figurines and also added others developed by his own artists -- including the characters from "Bambi," a 1942 release. These figurines were not marked, but were sold with paper-foil labels. If your figurines were made by American Pottery Co., they would sell for more than $100 each.
Is there such a thing as an antique Chia Pet? I like the heads and animals that grow grass that looks like hair.
The Chia Pet line was first offered for sale in 1982 by Joseph Enterprises, Inc. The name, not the idea, was new. Chias have been made in many shapes. They include animals like pigs or frogs, heads of professors or clowns and cartoon characters like Homer Simpson or Scooby-Doo. Head-shaped planters that grew grass were originally made by the Morton Pottery Co. of Morton, Ill., in 1933. The company made a hollow bisque head that had grooves instead of hair. The grooves could be planted with seed and the head filled with water. The absorbent pottery kept the seeds damp enough for the grass to sprout and grow. A Paddy O'Hair head originally sold to retail stores for $1.14 a dozen. The grass-growing heads continued to be made until the 1970s. You can still find them at house sales and flea markets. Look for Jolly Jim, Jiggs, a World War I soldier, and sailor, Jake, a pig, a tree and probably others. Morton Pottery closed in 1976. Copies of Morton heads have been made, and many other companies have made other grass-growing figures.
Tip
"Cold-painted" items -- like some glass and porcelain, and especially cookie jars -- should never be put in a dishwasher. Just wipe them with a damp cloth.
Current prices are recorded from antiques shows, flea markets, sales and auctions throughout the United States. Prices vary in different locations because of local economic conditions.¢ Duncan's Dairy milk bottle, embossed "Milk -- Pioneers the Way to Health," Catskill, N.Y., 1965, 1 qt., $25.¢ Pilkington Pottery paperweight, scarab form, matte light-blue glaze, England, c. 1910, impressed mark, 3 3/4 inches, $118.¢ Garfield and Arthur 1880 bandanna, bright red, image of both in center, white trim, 20 1/2 x 19 1/2 inches, $235.¢ Kathe Kruse Mannequin doll, magnesite head, cloth body, painted features, blond wig, braids, black jumper, hat, leather Mary Janes, 47 inches, $455.Thonet bentwood chaise rocker, spirals form the low rocker, adjustable caned back, elongated cane seat, 38 x 21 x 66 inches, $500.Watchdog safe, coin falls into the bank, dog opens mouth and barks, bellows-operated squeaker, J.&E.; Stevens Co., c. 1880, $880.Heisey candelabrum, Old Williamsburg pattern, Sahara, 3-light, 15 1/2 inches, pair, $1,300.
Copyright 2018 The Lawrence Journal-World. All rights reserved. This material may not be published, broadcast, rewritten or redistributed. We strive to uphold our values for every story published.