Lawrence High junior Chelsey Ornburn was doing everything right Monday when she tried her luck at an impromptu handstand competition.
She didn't stay inverted as long as her two competitors, but, like the rest of the night, she improved on past performances.
"I did better I guess," Ornburn said after the showdown that took place while the 14 teams were waiting for final results of the Lawrence All-Around Invitational. "I'm not very good at handstands, though."
Luckily for Ornburn, that skill wasn't part of the four-category competition since she had her best showing of the season, finishing 20th in the all-around at LHS.
"It was an exciting evening for me," she said.
While Ornburn set personal bests in both the beam and bar categories, it was Free State's Lacey Baxter who stole the show -- tying for second place with Blue Valley's Katie Herrera with a score of 36.225.
Kathleen DeFord, of Lee's Summit, Mo., won the all-around title with a score of 36.4.
"I definitely didn't expect this in this meet," Baxter said. "It kind of makes me nervous though, because I know that I still can get a lot better. And if I do that I can have a really strong showing at state as long as I perform.
"I always say that in gymnastics, you're either on or you're off. I was pretty 'on' tonight."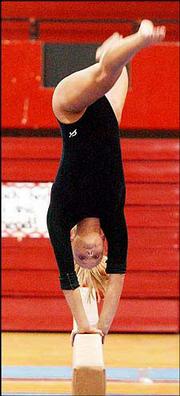 Baxter nailed her beam routine -- winning that event with a score of 9.55. She also took sixth in the bars and the floor exercises.
"I changed my bar routine before this meet," Baxter said. "I went with a more difficult move so that I could have a better start on my scoring opportunities."
Baxter wasn't the only Firebird putting up points Monday. Both Kim Baker and Sara Hase, who finished 19th with 32.85 points, scored more than 30 points, helping the Firebirds score 100 points for the second time this season. Free State finished fifth as a team; Lawrence High took seventh, scoring 95.675.
Shawnee Mission Northwest won the team title, but the meet focused on individual scoring as each team had only three competitors. Shawnee Mission Northwest scored 107.475, while Olathe East took second with 105.535 points and Manhattan finished third with 104.125.
"Both teams did about what I expected them to do," city coach Kathy Johnson said. "It's a good meet because it's the midpoint of the season and it allows you to see how you match up with 14 other teams from around the state. Mostly everybody except for the Wichita teams and Newton were here, so it lets us know where we stand."
Lions sophomore Meredith West said it was hard not to get excited Monday.
"It's really one of the bigger meets of the season and definitely has that feel," said West, who finished with a score of 32.325. Nicole Jones rounded out Lawrence's trio with a score of 30.625.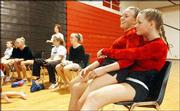 West said the experience would prepare LHS for later important meets.
"It's fun to see all the gymnasts from everywhere," she said. "But also nice that it is a home meet for us, and that we can have our students and fans show up and support us."
Copyright 2017 The Lawrence Journal-World. All rights reserved. This material may not be published, broadcast, rewritten or redistributed. We strive to uphold our values for every story published.