When Rick Renfro bought Johnny's Tavern back in 1978, he learned a quick lesson -- he didn't just buy a bar, he bought a tradition.
"The first thing I tried to do was change the name to Up & Under, but nobody paid any attention to it," Renfro said. "They just kept calling it Johnny's because that's the way it had always been."
This month, the bar and grill at 401 N. Second St. is celebrating its 50th anniversary.
The North Lawrence landmark was opened in October 1953 by John Wilson -- Johnny. Renfro, who got to know Wilson before the founder died about seven years ago, tells stories about the early days to any patron who will listen.
Things like how the bar used to open at 7 a.m. every day to serve factory workers who were getting off of the night shift.
"The opening time was the same every day, but the closing time varied," Renfro said. "John would be here all day long and when he got liquored up was when he would close it up. Sometimes closing time would be about 8 that evening or sometimes he would make it until midnight."
When Renfro bought the business from Wilson, it was because he was an area rugby player looking for a way to stay in Lawrence and on his rugby team. He bought the business despite many friends warning him against it.
"Everybody told me business was all about location, location, location, and they said this was the worst location, location, location," Renfro recalled. "But I think being here in North Lawrence is what really has helped us survive."
There was little bar competition in North Lawrence, he said, and people often forgot North Second Street was one of the busiest in town.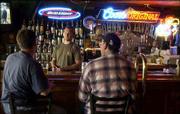 "We're a landmark over here," Renfro said. "People know where we're at even if they've never been in here."
It's a landmark indeed. The building still has the sign with a red Johnny's arrow and giant beer mug that was hung by Wilson.
Several regular bar patrons said the familiarity of the place was what kept them coming back.
"There are only a few other bars like this in Lawrence," said Randy Supernaw of Perry. "They're like old-time bars. They're not a sports bar that is fancy or upscale. I call places like this joints, and there aren't many joints left."
Bruce Weldon of Lawrence said the bar made him feel like Norm, the character from the TV series "Cheers."
"It's always good to go to a bar where they know your name," Weldon said.
For 28 years, the bar had the same morning bartender, Edith Wilson, who retired from the business two years ago at the age of 82.
Johnny's Tavern plans a special celebration starting at 5:30 p.m. Oct. 25 to honor former employees and longtime suppliers and customers of the business.
"It's successful because the boys down there are good to everybody," Wilson said. "They're just good people. I stayed down there for so long because I enjoyed being around the people."
Visiting with customers was the main reason Renfro has stayed in the business too, he said.
"About three years ago I brought my daughter here for Take Your Daughter to Work Day," Renfro said. "She was waiting tables and working in the kitchen, and she came up to me and said all she ever saw me do was walk around and talk and laugh with people.
"She asked me if I ever did any work around here. I thought that was a good endorsement of my career."
Besides, Renfro said, the bar has a knack for attracting a broad and interesting clientele.
On Friday, the lunch crowd included a banker, farmers, a school teacher and college students.
"A marketing guy once asked me who my profile customer was," Renfro said. "I told him my profile customer was anybody who had five bucks in his pocket. One of the things I'm most proud of is this place is kind of a melting pot."
The business has grown over the years. When Renfro bought it, the building seated 57 people. Additions and renovations have expanded seating to 400. The company also has opened four Johnny's Tavern sites in the Kansas City area.
Plans for the business don't call for any major changes, and Renfro said he didn't see any end in sight.
"I bought into something that is bigger than me," Renfro said. "I'm really just a caretaker down here. This place definitely won't die out with me."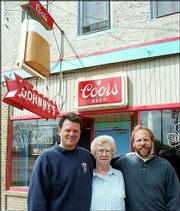 Copyright 2018 The Lawrence Journal-World. All rights reserved. This material may not be published, broadcast, rewritten or redistributed. We strive to uphold our values for every story published.