Washington — Chief U.S. weapons searcher David Kay reported Thursday he had uncovered no weapons of mass destruction in Iraq, and only limited evidence of secret programs to develop weapons, drawing fresh congressional complaints about the Bush administration's prewar assertions of a serious threat from Saddam Hussein.
Kay, in a report to Congress, described evidence of a possible small-scale Iraqi biological weapons effort and said searchers had substantial evidence of an Iraqi push to boost the range of its ballistic missiles beyond prohibited ranges.
But his team had found only limited evidence of any chemical weapons effort, he said. And there was almost no sign that a significant nuclear weapons project was under way.
Taken together, the findings do not appear to so far validate most of the Bush administration's prewar assertions of widespread and advanced Iraqi weapons programs, critics said.
Defense Secretary Donald H. Rumsfeld said Thursday "it will be unfortunate" if it turns out that intelligence used to justify the war in Iraq turns out to have been seriously flawed.
Kay said he should know within six to nine months if there is more to be found in Iraq.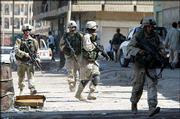 Copyright 2018 The Associated Press. All rights reserved. This material may not be published, broadcast, rewritten or redistributed. We strive to uphold our values for every story published.