Israel announced Thursday it would build 565 new homes in Jewish settlements in the West Bank, violating a U.S.-backed peace plan and angering Palestinians already seething over plans to build a security barrier deep into the West Bank.
The "road map" peace plan requires a freeze in construction in some 150 Jewish settlements throughout the West Bank and Gaza Strip, which Israel seized in the 1967 Middle East war.
However, an Israeli official said Israel did not have any responsibility to meet its obligations until Palestinians cracked down on militant groups.
"The road map is stalled as long as there is no action taken by the Palestinians to dismantle the terrorist infrastructure," said Zalman Shoval, an adviser to Israeli Prime Minister Ariel Sharon.
When asked whether the U.S. government backed that interpretation, he said: "This is our understanding, the understanding that we have had all along, and we haven't changed it."
The Israeli government says it needs the new buildings to account for what it calls the "natural growth" of the settlements -- even though the vast majority of the new units were planned for a settlement that is being dramatically expanded.
The government announcement came a day after the Cabinet approved a portion of a security barrier that runs into the West Bank to shield key settlements -- as well as Israel -- from suicide bombers, who have killed hundreds of Israelis over the past three years.
Also Thursday, incoming Palestinian Prime Minister Ahmed Qureia announced he would submit his proposed Cabinet to the Palestinian Parliament on Wednesday.
He then accused Israel of trying to circumvent peace talks by seizing land Palestinians want for an eventual state.
The decision on the security wall and new settlement units "proves that the Israeli government is not serious about peace and that its goal is to draw the borders unilaterally and to sabotage the possibility for establishing a viable Palestinian state," he said.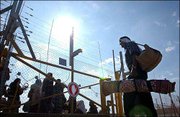 Copyright 2018 The Associated Press. All rights reserved. This material may not be published, broadcast, rewritten or redistributed. We strive to uphold our values for every story published.