New York — Instead of getting tight when Johan Santana cramped up, the Minnesota Twins stayed loose.
Playing a postseason game in Yankee Stadium for the first time, the Twins were guarding a one-run lead in the fifth inning when their pitcher suddenly couldn't go to the mound for the bottom half.
"One thing you don't do is show panic in the dugout," Minnesota manager Ron Gardenhire said. "So I just said, 'Well, let's have some fun. We are going to piece it together.' And that's what we did."
Those pesky Twins put the big, bad Yankees in another postseason funk.
Torii Hunter circled the bases when his line drive resulted in a pair of misplays that led to two sixth-inning runs, and the Twins finally beat New York, tripping up the stumbling Yankees, 3-1, in Tuesday's AL playoff opener.
New York had rolled over the Twins during the past two seasons, going 13-0 and outscoring them 90-36. But it's the little guys who take a 1-0 lead into Game 2 Thursday night, when Brad Radke pitches against Andy Pettitte.
"It's been a running joke the last couple of days -- we might just as well scrimmage these guys and get them warmed up for the next round, because that's where everybody's putting them," Minnesota's Jacque Jones said.
New York was favored in last year's division series, too, before Anaheim won in four games to end a run of four consecutive AL pennants. The Yankees have dropped four straight postseason games for the first time since the 1981 World Series against the Dodgers, not exactly what owner George Steinbrenner was expecting when he set payroll records last winter in an effort to get his team its first Series title since 2000.
After Santana's injury, Rick Reed, J.C. Romero, LaTroy Hawkins and Eddie Guardado combined to allow five hits and one run.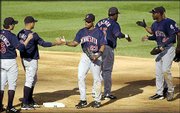 Meanwhile, Bernie Williams failed to cut off Hunter's liner to center and Alfonso Soriano made an error that gave Hunter what's often called a Little League home run. Williams also flopped flat on his belly rounding first base in the day's comic highlight, and New York's batters went 1-for-10 with runners in scoring position, getting an RBI infield single from Soriano in the ninth.
"When the game gets sloppy and the ball gets thrown around, that makes it tough," said Mike Mussina, who had been 20-2 against the Twins. "That's what the postseason is, minimizing mistakes. If you make a mistake in the postseason, they tend to be big ones."
Despite their troubles, the Yankees threatened to pull off yet another memorable ninth-inning comeback. But a spectacular leaping catch by Shannon Stewart against the left-field wall on a drive by Hideki Matsui helped Guardado limit New York to one run.
Stewart was fighting not only the sun -- it was first early afternoon postseason game at Yankee Stadium since 1981 -- but aggressive fans who leaned over to try for a grab similar to Jeffrey Maier's in the 1996 playoffs against Baltimore.
"The only thing I was worried about was that with the fans reaching out, he might get poked in the eye," said Jones, Minnesota's right fielder.
Baseball tried to knock off the Twins after the 2001 season as part of its failed contraction attempt. Minnesota has rebounded to win consecutive AL Central titles, losing to Anaheim in last year's AL championship series. The Twins succeed by executing the little things.
"We have to play like that," Gardenhire said, "run around the bases hard, take extra bases."
Minnesota went ahead in the third when speedy Cristian Guzman reached on a slow roller past the mound, slid into third on Stewart's single to left and scored on Luis Rivas' sacrifice fly.
Santana, whose 12-3 record led the majors in winning percentage, allowed four hits but didn't let any runners get past second. He had thrown 59 pitches when his right leg tightened.
"I knew I was in pain," Santana said. "It was bad."
His relievers weren't ready.
"He totally caught the bullpen off guard," Hawkins said. "We were totally just like, 'Wow, what happened?' "
Talk about bullpen by committee!
It was somewhat similar to the night of June 11, when Roy Oswalt got hurt and Houston's bullpen beat the Yankees in the first six-pitcher no-hitter in major league history.
"We certainly didn't have a lot of opportunities," Yankees manager Joe Torre said. "And when we did, we didn't get the base hit, up until the ninth inning."
Hawkins struck out four over two innings for the win, and Guardado hung on for the save when Nick Johnson hit a game-ending grounder.
Minnesota gave itself margin for mistakes in the sixth. With Matthew LeCroy on first following a leadoff single, Hunter lined a pitch toward Williams. In the past, the outfielder usually would have scooped up the ball, but now 35 and slowed following knee surgery last spring, he let it roll by him to the wall.
"It went just too fast right by me and skipped very hard to my left," Williams said.
LeCroy scored and Hunter sped to third with a triple. When the relay throw from Soriano was way high, Hunter wound up coming home. He pumped his fists, telling teammates to score some more runs.
"It was trying to fire the guys up," Hunter said. "I think we had to get State Farm insurance. We know that they know that we know they're good."
Many fans in the sellout crowd of 56,292 booed.
The Yankees knew they had opened with a stinker.
"There's nobody in this clubhouse that took them for granted," Pettitte said. "They went further in the playoffs last year than we did."
Notes: Jason Giambi was 0-for-4 with a pair of strikeouts. ... During its run of nine straight postseason appearances, the Yankees have won all three first-round series in which they dropped the opener.
Copyright 2018 The Associated Press. All rights reserved. This material may not be published, broadcast, rewritten or redistributed. We strive to uphold our values for every story published.