San Jose, Calif. — With a new poll showing the recall passing handily and Arnold Schwarzenegger's campaign surging, Arianna Huffington withdrew from the race Tuesday to fight the recall and stop what she called "a Republican takeover of our state."
In the latest Los Angeles Times poll, 56 percent of likely voters support ousting Gov. Gray Davis, while 42 percent are opposed to the recall. Schwarzenegger, a Republican, has pushed ahead of Democratic Lt. Gov. Cruz Bustamante, 40 percent to 32 percent. Republican state Sen. Tom McClintock, who has come under pressure to withdraw from the race, trails with 15 percent.
The Times poll also showed that during the past month Davis has lost support among key constituencies -- Democrats, women, moderates and liberals among them.
The possibility of a Schwarzenegger victory prompted Huffington to withdraw from the race Tuesday night. Appearing on CNN's "Larry King Live," she urged her supporters to vote "no" on the recall but stopped short of endorsing Bustamante, although she said she might do that sometime later this week.
Schwarzenegger, who was in San Francisco for a $10,000-a-head fund-raiser, said he was sorry to learn that Huffington, who taunted him during last week's debate, had dropped out. "She brought a lot of energy and color to the campaign," he said.
Davis, in a statement, made a play for her support. "Her voice could be a big help between now and next Tuesday," he said.
The Democratic Party said it would announce plans today to mount a fund-raising drive to pay for legal help to ensure there weren't voting problems in at least nine large California counties with heavy minority populations, including Santa Clara.
Tuesday, Davis and Schwarzenegger continued to savage one another on the campaign trail, while Bustamante remained largely above the fray. Bustamante, who toured an ethnic market in Los Angeles, maintained that his campaign's own polls showed him running even with Schwarzenegger, despite reports that his campaign has fallen behind.
"It's one thing to have muscles here," Bustamante said, pointing to his biceps. "It's another to have them here," he said, pointing to his head.
"We present a very positive and viable option on that ballot."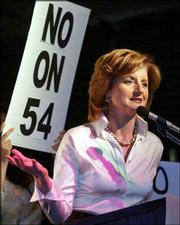 Copyright 2018 The Lawrence Journal-World. All rights reserved. This material may not be published, broadcast, rewritten or redistributed. We strive to uphold our values for every story published.