A recent shakeup of Boeing Co.'s top management has some aviation analysts speculating that Lawrence native and Kansas University graduate Alan Mulally is in line to be the next chief executive of the world's largest aerospace company.
Boeing recently fired chief financial officer Mike Sears, claiming that he acted unethically in encouraging a former U.S. Air Force official to join the company. The former Air Force official was in a position to positively influence a proposal Boeing had made to lease a fleet of refueling tankers to the Air Force.
The firing did more than leave a void in Boeing's upper management. It also reopened a debate over who will succeed current chief executive Phil Condit when he retires.
Sears was seen as Condit's right-hand man and was widely viewed as the heir apparent to Condit, who is expected to retire in three years when he turns 65.
But now, Mulally, a 1968 KU engineering graduate and the head of Boeing's commercial jet division, is being mentioned as a prime candidate to succeed Condit.
A story by Reuter's news service labels Mulally as the leading candidate. Robert Toomey, a financial analyst with RBC Dain Raushcher that follows Boeing, told the Chicago Tribune, "I would think Alan now would be set up as the heir apparent."
Such an ascension could provide a boost to Kansas University, KU spokesman Todd Cohen said. After all, Mulally would be in rare company. Boeing ranks 15th on the Fortune 500 list and is one of the country's largest companies with $54 billion in sales in 2002 and 166,000 employees.
"Most people think these CEOs only come from the Ivy League," Cohen said. "This would put KU in the same league as those traditional powerhouse schools. It would show that anyone at KU can be as successful, or more so."
It wouldn't be the first time a KU graduate has risen to the top levels of a major multinational company. Robert Eaton, also a KU engineering graduate, served as the CEO of Chrysler Motor Corp. before it merged with Germany's Daimler-Benz. Other big-name CEOs that hail from KU include Linda Zarda Cook, with oil giant Shell Canada; Delano Lewis, former CEO of National Public Radio; Drue Jennings, former CEO of Kansas City Power and Light; and Charles Oswald, former CEO of NCS Pearson, which is now Pearson Government Solutions and is Lawrence's largest private employer.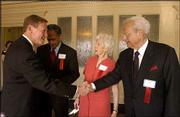 "This wouldn't be a first for KU, but considering that Boeing has such a large presence in the state, it would be special," Cohen said. "I would think that Wichita would feel real good about it as well."
Boeing, which operates a major manufacturing facility in Wichita, is the state's largest private employer with about 12,000 employees.
Cohen said that having Mulally in charge of the aerospace giant also could benefit university programs by giving faculty members and students greater access to the company.
"He has maintained his contacts to the university and has been a very good Jayhawk," Cohen said.
Mulally, who also is a Lawrence High graduate, received the university's Distinguished Service Citation in 2002 and was recognized by KU in 1995 when he was named the engineer of the year by Design News, the world's largest engineering magazine, for his design work on Boeing's 777 jetliner.
That project and his ability to successfully navigate Boeing's commercial jet division through an unprecedented airline slump after 9-11 are reasons several aviation analysts cite in predicting Mulally will be named Condit's successor.
But the promotion is far from certain. Condit, 62, has not announced his retirement plans, though company policy suggests that he'll have little choice but to retire at age 65.
If Condit waits, though, until he's 65, Mulally would be 61, leading one unnamed Boeing observer to tell the Chicago Tribune that "Alan is too old."
An attempt to reach Mulally for this story was unsuccessful.
Copyright 2018 The Lawrence Journal-World. All rights reserved. This material may not be published, broadcast, rewritten or redistributed. We strive to uphold our values for every story published.