EAST LANSING, MICH. — Bucknell's atrocious free-throwing shooting allowed No. 3 Michigan State to escape with a season-opening victory.
Playing the highest-ranked team in their history, the Bison missed an incredible 16 of 17 free throws, including all eight in the final 7:34, and the Spartans won, 64-52 Friday night.
Paul Davis scored 21 points to pace Michigan State, which trailed 50-49 with just under seven minutes left but closed with a 15-2 run.
Bucknell's Kevin Bettencourt scored 21 points, including five three-pointers, but was 0-for-3 from the line.
Michigan State coach Tom Izzo was disgusted with his team's effort. The Spartans outrebounded Bucknell, 42-39, but often allowed the Bison to take uncontested shots.
"Teams that play hard usually win, and this is the softest team we've had in the nine years I've been here," Izzo said. "We are soft."
No. 10 Kentucky 65, Winthrop 44
Lexington, Ky. -- Erik Daniels scored 15 points and the Wildcats opened the second half with a 16-3 run for the easy win. Chuck Hayes and Gerald Fitch added 12 points apiece and Kelenna Azubuike had 11 for the Wildcats.
No. 15 Wisconsin 64, Penn 53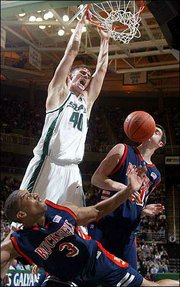 Devin Harris scored 16 points, including a three-point play with 2:55 left, to lead the Badgers. Zach Morley and Freddie Owen added 12 points apiece for the Badgers.
No. 16 Gonzaga 84, Idaho 63
Spokane, Wash. -- Ronny Turiaf scored 18 points, and Gonzaga used an 18-0 run to pull away. Blake Stepp was held to 11 points, but finished with 13 assists for the Bulldogs (1-1).
No. 23 Marquette 79, Savannah St. 41
Milwaukee -- Scott Merritt scored 17 points for Marquette (2-0). Travis Diener scored 14 and Joe Chapman 13 for the Golden Eagles.
No. 24 N.C. State 71, UNC-Asheville 46
Julius Hodge scored 24 points and had 11 rebounds, leading the Wolfpack. Hodge, a junior who was a first-team all-ACC pick last season, was 9-for-12 from the field. Scooter Sherrill added 14 for N.C. State.
Copyright 2018 The Associated Press. All rights reserved. This material may not be published, broadcast, rewritten or redistributed. We strive to uphold our values for every story published.