Lubbock, Texas — Bob Knight appeared to have shared his basketball mojo with a few of the seven newcomers on his Texas Tech team.
Freshman Jarrius Jackson and junior-college transfer Joseph Works showed their athleticism, agility and finesse in Tech's season opener.
Jackson and Andre Emmett each scored 17 points as Texas Tech defeated Davidson, 89-58, in a first-round preseason NIT game Tuesday night.
Works added 13 points in 14 minutes.
"We have a special potion that we give them when they get here that turns average athletes into really good athletes," said Knight, who notched his 810th career win to begin his third season at Tech. "But I can't share the secret of that with anyone right now."
Tech (1-0) trailed only briefly in the first half before going ahead for good. By the 2:52 mark in the second half, the Red Raiders had built a 35-point lead and were up, 89-54.
Emmett, the leading scorer in the Big 12 Conference last season (21.8 points), was 8-for-15 and got all his points before being taken out with about eight minutes remaining in the game.
Four Tech players scored in double figures. Ronald Ross scored 15 points.
"We've been working all summer on being more focused on the defensive end," Mickey Marshall said. "Jackson basically has just taken over in that since the summer. He did a great job being aggressive on defense and offense against them."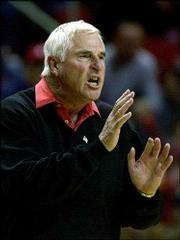 Davidson's coach was impressed.
"We've played teams as athletic and as talented, but the aggressive nature of their athleticism was very prominent," Wildcats coach Bob McKillop said. "Any time we tried to make a run, they answered it immediately."
Matt McKillop led the Wildcats (0-1) with 18 points, and Brendan Winters and Ian Johnson added eight each.
Tech led 43-25 at halftime. The Red Raiders used a 18-4 run that included back-to-back three-pointers by Ronald Ross and Jackson to give Tech a 19-10 lead with 11:52 in the half.
The Red Raiders helped their cause by forcing 14 turnovers, which included 10 steals.
The Wildcats finished with 26 turnovers; Tech finished with 18 steals.
Knight was satisfied with his team's defense but there's work to be done at the other end of the floor.
"The thing we have to do better improve our motion on offense," he said. "We stood around quite a bit."
Tech will play Massachusetts Friday night. The Minutemen beat St. Francis, 80-58, Tuesday night.
Copyright 2018 The Associated Press. All rights reserved. This material may not be published, broadcast, rewritten or redistributed. We strive to uphold our values for every story published.