AUBURN HILLS, MICH. — Detroit's depth beat the star power of the Los Angeles Lakers.
Chauncey Billups had 24 points and eight assists to lead a balanced attack for the Pistons in a 106-96 win Tuesday night over Los Angeles.
Six Detroit players scored in double figures and its bench outscored Los Angeles' reserves 45-14.
"They've got some of the greatest players in the history of the game, but I like our by-committee approach," Billups said. "We can play with anybody. We've got so many players that could be playing 30 minutes a night on most teams, and we've got the best bench in the league."
Ben Wallace had 12 points and 15 rebounds -- despite bruising his shoulder and back during the game -- for the Pistons, and Richard Hamilton scored 14. Detroit reserves Corliss Williamson scored 14, Mehmet Okur had 13 and Bob Sura scored a season-high 10 points.
"They had a lot of players that really helped them off the bench," Lakers coach Phil Jackson said. "That was a key."
The Lakers have been unbeatable at home, with a 5-0 record, and average on the road, where they fell to 3-3 with their third straight road loss.
"We're not playing the way we should," Jackson said. "We're giving up too many points on the road."
In 31 foul-plagued minutes, Shaquille O'Neal had 20 points, 10 rebounds and five assists. Karl Malone scored 20, and Gary Payton added 15 points and five assists.
Kobe Bryant scored 19, but was 4-of-14 from the field.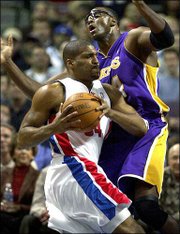 "He didn't have a good night," Jackson said.
Bryant left the locker room quickly after the game and did not respond to questions before boarding the team bus.
Detroit won a game with 20 lead changes and nine ties because it made 57 percent of its shots, outrebounded the Lakers 47-26 and took advantage of O'Neal's fouls.
"We were lucky that he got into foul trouble," Detroit coach Larry Brown said.
Midway through the first quarter, O'Neal had three fouls, and he was whistled for a fourth with 4:47 left in the half. He left the game with five fouls with 1:16 to go in the third quarter, and stayed on the bench for nearly six minutes.
"I had to be careful because of the fouls and I don't like playing that way," O'Neal said. "We just made too many mistakes. We've got to get better on defense."
The Lakers were ahead 72-70 when O'Neal left the game, but when he came back they were down 85-80. Detroit went ahead 91-82 with 4:22 left, and Los Angeles couldn't get closer than five.
"We won a lot of games the past two years because we were deeper than most teams we played," Wallace said. "And we're going to do it again this year."
T'wolves 89, Nuggets 76
Minneapolis -- Kevin Garnett had 26 points, 11 rebounds and eight assists to help Minnesota hold off Denver, the Timberwolves' first win over a conference opponent. Neither team could put together any perimeter offense, so Minnesota maximized burly Gary Trent in the post. He scored 14 points.
Heat 105, Sonics 98
Seattle -- Lamar Odom had 21 points and 11 rebounds, and Eddie Jones scored 18 points to lead Miami to its first road win this season. Dwyane Wade had 18 points, five rebounds, five assists and four steals for the Heat (3-8), who trailed 81-76 early in the final period before finishing the game on a 29-17 run behind Eddie Jones' nine fourth-quarter points. Ronald "Flip" Murray scored a career-high 31 points.
Spurs 94, Warriors 81
San Antonio -- Tim Duncan had 21 points and 10 rebounds, and Tony Parker added 19 points to lift San Antonio over Golden State. Parker hit two three-pointers as the Spurs took control with a 20-2 run midway through the fourth quarter. Erick Dampier led the Warriors with 21 points and 17 rebounds for his fourth straight double-double and ninth of the season in 10 games. Clifford Robinson added 14 points, and Nick Van Exel 12.
Suns 95, Bulls 82
Phoenix -- Amare Stoudemire scored nine of his 21 points in the fourth quarter -- including a pair of thunderous dunks -- and Phoenix snapped a three-game losing streak. Stoudemire also had three fourth-quarter steals and grabbed 10 rebounds. Last season's rookie of the year also tied his career best with four assists.
Cavs 103, Clippers 95
Cleveland -- Ricky Davis scored 27 points, Chris Mihm added a career-high 21 and Cleveland held off Los Angeles. LeBron James shot poorly from the outside but finished with 14 points, seven rebounds and eight assists as the Cavaliers won their fourth straight home game.
Hornets 88, Nets 85
East Rutherford, N.J. -- David Wesley hit two late three-pointers to cap a 20-point performance that led New Orleans to its third straight win. Baron Davis added 25 points, 12 assists, nine rebounds and a clutch three-point play, and George Lynch had 17 rebounds for the Hornets.
Hawks 101, Bucks 93
Milwaukee -- Shareef Abdur-Rahim scored 27 points and grabbed 11 rebounds, leading Atlanta past Milwaukee. Jason Terry had 17 points, Dion Glover added 12 as the Hawks snapped a nine-game losing streak to the Bucks at the Bradley Center.
Copyright 2018 The Associated Press. All rights reserved. This material may not be published, broadcast, rewritten or redistributed. We strive to uphold our values for every story published.