A Lawrence jewelry store owner plans to close the business because of increasing competition and lack of sales due to the economic slowdown.
Tallmon & Tallmon Fine Jewellers, 520 W. 23rd St., will close in mid-January after eight years in business, owner Ralph Tallmon said Tuesday.
Tallmon said he was looking for a career change after 34 years in the jewelry business and said now was the time to close the store because it had become more difficult to compete as an independent jeweler.
"It used to be that the local jewelry store was the only place in town to buy jewelry, but in the Information Age, that's not the case anymore," Tallmon said. "Business has been OK for us, but it was not strong enough to make us want to keep doing it for years longer."
Tallmon said independent jewelry stores were facing tougher competition from department stores and discounters.
"It is very hard to compete with multimillion-dollar companies and their marketing budgets," Tallmon said. "JC Penney, Kohl's, Sears, Target, even Wal-Mart, good lord, is getting heavy into it. When Wal-Mart starts sinking its money into something, it makes it tougher on everybody."
Tallmon also said the business noticed a significant decline in sales after the economy soured.
"In my 30 some years, it probably was the toughest (downturn) we had been through," Tallmon said. "We were fortunate because we had been around for a while, but if you were a new guy just starting out, holy smokes, I'd feel sorry for you."
Tallmon will become the second Lawrence jewelry store to close in the past 18 months. McQueen Jewelers, 809 Mass., abruptly closed in June 2002.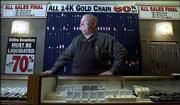 Other Lawrence jewelers, though, said they didn't see the closings as a sign of a major shake-up in the Lawrence jewelry market.
"We're having a great year," said Rich Yeakel, co-owner at Marks Jewelers, 817 Mass. "We're as busy as we can be, so I guess I wouldn't agree that it is becoming harder to compete. But maybe we're just lucky because we have such a healthy downtown."
Yeakel said he thought the closings were just part of the normal business cycle, noting that two new jewelry stores -- Hurst's Fine Diamonds and Walker's Fine Jewelry -- had opened in the past couple of years in Lawrence.
"It maybe has just thinned the business out," Yeakel said.
Tallmon, before opening his store in Lawrence, owned jewelry stores in Ames, Iowa, and North Platte, Neb. The Lawrence store has seven part-time employees in addition to Tallmon and his wife, Mary.
Tallmon said the decision to leave the business was a tough one.
"It is a nice clean business," Tallmon said. "It deals with love and romance. You deal mostly with the positive side of life when you're in the jewelry business."
Copyright 2018 The Lawrence Journal-World. All rights reserved. This material may not be published, broadcast, rewritten or redistributed. We strive to uphold our values for every story published.