London — As police braced for massive demonstrations against the war in Iraq, President Bush opened a state visit with America's staunchest ally Tuesday, arguing that the use of force sometimes is the only way to defend important values.
Bush's state visit comes at a time of mounting death tolls among coalition troops, fresh terror threats and widespread unhappiness among the British and other Europeans over Prime Minister Tony Blair's close support for Bush's Iraq policies.
The president and his wife, Laura, were greeted Tuesday evening at Heathrow Airport by Prince Charles. The Bushes then flew on a U.S. Marine helicopter to Buckingham Palace, where they are staying as the guests of Queen Elizabeth II.
The relative quiet of the airport greeting provided a contrast to expected noisy anti-war and anti-Bush protests in other parts of the city.
Hundreds turned out for the first of a number of planned protests on Tuesday, and London police prepared for larger demonstrations over the next few days, including a march on Thursday past Parliament that organizers said could draw 100,000 demonstrators.
In a speech today, Bush will argue that war is sometimes necessary as a last choice, said a senior administration official traveling with him.
"History has shown that there are times when countries must use force to defend the peace and to defend values," Bush was to say.
He also is expected to renew his call for countries across the globe, particularly in the Middle East, to embrace democracy.
Both British and U.S. officials sought to put the best face on a visit that seemed likely to be remembered more for anti-war street demonstrations than for the celebration of the Anglo-American alliance that had been intended by both governments.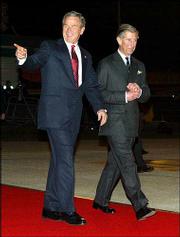 Recent polls indicate the British public holds Bush in generally low regard and views Blair's stalwart support for him as a liability.
Copyright 2018 The Associated Press. All rights reserved. This material may not be published, broadcast, rewritten or redistributed. We strive to uphold our values for every story published.