Topeka — At a critical moment in the history of the Episcopal Church, Dean Elliott Wolfe has been consecrated to lead the nearly 15,000 Episcopalians of eastern Kansas.
God was asked to give courage to Wolfe, who was ordained and consecrated as bishop coadjutor in a colorful, symbol-rich, two-hour ceremony in Grace Episcopal Cathedral in downtown Topeka.
Wolfe, 47, will succeed the current bishop, the Rt. Rev. William E. Smalley, when he retires on Jan. 1 as chief pastor of the 144-year-old diocese, which includes the eastern 40 percent of the state.
The preacher at Saturday's ceremony was the Rev. Dr. Mark S. Anschutz, rector of St. Michael and All Angels Church in Dallas, where Wolfe was serving as vice rector when he was elected July 12 to lead the Topeka-based diocese of 51 congregations.
The diocese covers the eastern part of the state, stretching from the border with Missouri to near Wichita and Abilene, and includes all of Lawrence.
Referring only vaguely to the current rift in the worldwide Anglican Communion over the consecration of an openly gay bishop in New Hampshire, Anschutz said Wolfe was taking over a leadership role at a time that will require great courage.
Anschutz asked the congregation of about 1,000 people to pray that God grant the new bishop the courage "to make things happen," "to take great risks" and "to suffer the loneliness of office."
Later, nine bishops encircled Wolfe as he knelt on the sanctuary steps.
The prelates then laid their hands upon Wolfe's head and collectively said a consecration prayer.
The bishops -- with the help of Wolfe's parents, wife and son -- presented the vestments and symbols of his new office.
Finally, Smalley, the eighth bishop of Kansas, passed to Wolfe a crosier, the ceremonial staff that symbolizes a bishop's role as chief shepherd of his flock.
Wolfe then was presented to the congregation as their new bishop, which greeted him with sustained, thunderous applause.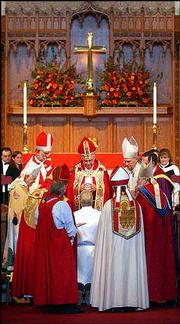 Copyright 2018 The Associated Press. All rights reserved. This material may not be published, broadcast, rewritten or redistributed. We strive to uphold our values for every story published.