Annapolis, Md. — While at the Naval Academy in the late '80s, Jeff Petrie thought he was the only gay midshipman at the school. Homophobia was rife, and he took pains to hide his sexual orientation.
"I kept my secret. I lived a double life in exchange for the opportunity to serve," he said.
Now, Petrie is leading an effort to establish an official gay and lesbian chapter of the school's alumni association, in what would be a first for any U.S. service academy.
The chapter's 29 members-to-be, none of whom still serve in the military, want to support gay midshipmen still bound by the Department of Defense's "don't ask, don't tell" policy, Petrie said.
"Just by existing, I think we will be able to help current midshipmen by showing them we have been through it successfully, and if that's what they want to do, they can do it too," said Petrie.
Petrie, a 1989 graduate, said he planned to file an application with the academy's alumni association next week.
He said the academy had fostered a "disapproving and damaging environment for gay and lesbian midshipmen for decades."
"We don't have the power to change that," said Petrie, who now lives in San Francisco and calls his would-be chapter USNA Out. "But we do have the power to make things a little easier."
Skid Heyworth, vice president of communications for the military college's alumni association, said Friday he had not received the group's application but would pass it to the association's board of directors for review. He said he didn't know of any similar request in the academy's history.
"We're not going to speculate on the 'what-ifs' at this point until we see the request," Heyworth said.
Aaron Belkin, director of the Center for the Study of Sexual Minorities in the Military at the University of California, Santa Barbara, said it was the first request for official recognition by gay and lesbian service academy graduates. There are several unofficial networks, often with anonymous members, around the country, he said.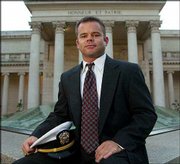 "I'm impressed with what they're trying to do," Belkin said.
"To a greater extent than ever, officers will say they're not uncomfortable around gays and lesbians on a personal level. But there are still pockets of intense resistance to integration."
Petrie said he has been working since July to compile a roster of potential members, all of whom belong to the Service Academy Gay and Lesbian Alumni Assn., a 150-member alumni association that is not officially sanctioned by any of the military academies. Many of its members are anonymous.
An official gay and lesbian chapter of the Naval Academy's alumni association would take a step forward, advertising its members and offering contact information, said John Sewell, a 1990 graduate who has signed onto the roster.
Copyright 2018 The Associated Press. All rights reserved. This material may not be published, broadcast, rewritten or redistributed. We strive to uphold our values for every story published.