New Orleans — The revamped and reloaded Los Angeles Lakers won't go 82-0.
Baron Davis was too quick and too accurate for Kobe Bryant to stop as the New Orleans Hornets became the first team to defeat the Lakers this season with a 114-95 victory Friday night.
Davis made four three-pointers and scored 23 points with 12 assists and four steals, dominating his one-on-one matchup with Bryant to such a degree that the Lakers were forced to switch other defenders onto him.
"His skills have always been there, his athleticism has always been there," Bryant said. "I tease him sometimes because he looks a little chunky, but he still gets up off the floor. He's a great player, a great player."
Davis got plenty of help as the Hornets played a superb all-around game. P.J. Brown shot 7-for-7 and scored 20 points with seven rebounds, David Wesley added 17 points and five assists and George Lynch scored 15 to pace six players in double figures.
One night after a double-overtime victory over San Antonio that lasted more than 31/2 hours, the Lakers didn't have the legs to keep up with the Hornets during a 28-10 third-quarter rally that turned a one-point deficit into a 17-point lead.
The Lakers pulled within 12 before Bryant and Shaquille O'Neal re-entered the game with 5:50 remaining. But Bryant shot an airball from three-point range as the shot clock expired, Brown scored twice and Darrell Armstrong nailed the Hornets' 12th and final three-pointer to make it 108-90 with 3:27 left.
"This isn't your typical back-to-back," Bryant said.
76ers 106, Bulls 85
Chicago -- Allen Iverson scored a season-high 33 points and had 11 assists, and Glenn Robinson had his first double-double with Philadelphia as the 76ers defeated Chicago. The Bulls activated Kansas University product Kirk Hinrich before the game. Hinrich had five points on 1-of-10 shooting. Robinson had 21 points and 11 rebounds.
Suns 96, Grizzlies 88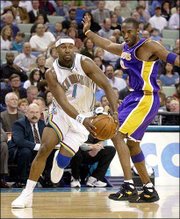 Phoenix -- Stephon Marbury broke out of a bad shooting night with eight of his 16 points in the final 51/2 minutes, and Phoenix defeated Memphis.
Clippers 104, Nuggets 102, OT
Denver -- Corey Maggette had 29 points and 10 rebounds, and Quentin Richardson scored six of his 23 points in overtime to lift Los Angeles past Denver.
Nets 94, Celtics 87
Boston -- Jason Collins set career highs with 19 points and 13 rebounds, leading New Jersey over Boston, a victory that made Byron Scott the winningest coach in Nets history. Jason Kidd had 19 points and 10 rebounds for the Nets.
T'wolves 100, Magic 71
Orlando, Fla. -- Latrell Sprewell scored 22 points, lifting Minnesota past Orlando. Kevin Garnett had 21 points and 17 rebounds for his third double-double of the season. Fred Hoiberg added 12 points off the bench, while Sam Cassell and Mark Madsen each scored 11.
Pistons 105, Bucks 99
Auburn Hills, Mich. -- Chauncey Billups scored 27 points and Richard Hamilton added 24, and Detroit beat Milwaukee for its fourth consecutive victory.
Knicks 114, Kings 111
New York -- Allan Houston scored 29 of his 39 points in the second half, and New York came back to beat Sacramento. The Knicks rallied from an 87-80 third-quarter deficit to beat the Kings, who have lost seven straight at Madison Square Garden.
Warriors 95, Jazz 89
Oakland, Calif. -- Erick Dampier had 10 points and 11 rebounds for his career-best sixth straight double-double, and Golden State beat Utah for its third consecutive home win. Jason Richardson had 21 points to lead the Warriors.
Sonics 100, Blazers 82
Seattle -- Ronald Murray, filling in for injured Ray Allen, scored 24 points to lead Seattle past Portland. Rashard Lewis added 21 points in Seattle's home opener, Brent Barry 20 and Vladimir Radmanovic 19 for the Sonics.
Pacers 91, Cavaliers 90
Indianapolis -- Ron Artest's three-point play with 11 seconds left lifted Indiana over LeBron James and winless Cleveland. Artest's play brought the sellout crowd to its feet and spoiled a strong performance by James, who missed a driving layup with five seconds to go. James finished with 23 points.
Wizards 86, Raptors 60
Washington -- Toronto threatened records for offensive futility, scoring just four points in the second quarter and a franchise-low 23 in the first half.
Copyright 2018 The Associated Press. All rights reserved. This material may not be published, broadcast, rewritten or redistributed. We strive to uphold our values for every story published.